ReefNews CD-ROM RN-2004-01
Cayman Brac: Jewel of the West Indies
This is a sample of one of the slides from the presentation "Cayman Brac: Jewel of the West Indies" on this CD-ROM by the same name. The CD-ROM contains MP3 audio narration for the slides. There are over 300 illustrations of the culture, coral reefs, and marine life of Cayman Brac.
The CD-ROM also contains 16 issues of Volume 4 of the e-ReefNews newsletter, and special features of shipwrecks, divers, and music.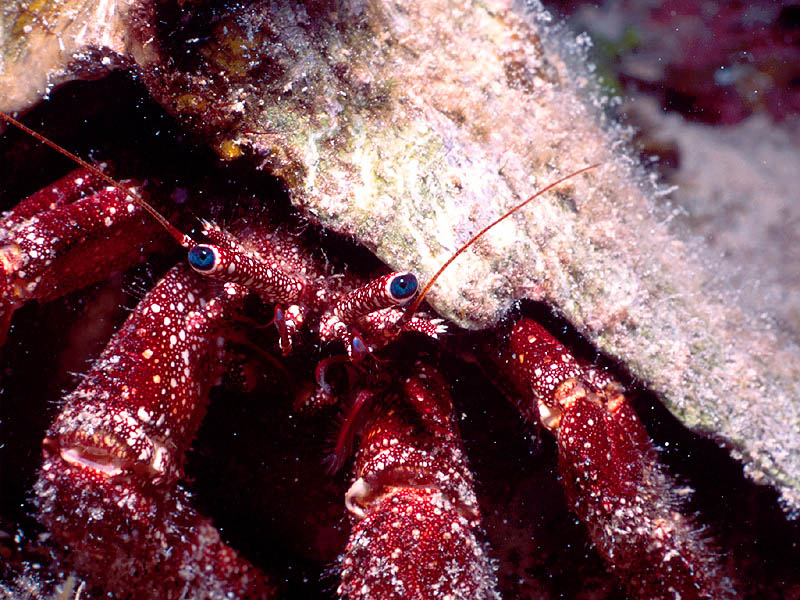 Speckled Hermit Crab
Cayman Brac has some of the healthiest reefs in North America. An important reason for the health of these reefs is a system of underwater marine sanctuaries, sort of like National Parks, that protect the reefs and all of their living creatures. These marine sanctuaries are homes to thousands of incredible marine creatures, like this little Speckled Hermit Crab that makes its home inside an old Conch shell.
Back to the ReefNews Catalog
Copyright © 2004-5, ReefNews, Inc.
95 Obsidian Loop
Los Alamos, NM 87544

ReefNews ® is a registered trademark of ReefNews, Inc.