Volume 4 Number 15
A Gorgeous Cloudy Day
in the Northern Bahamas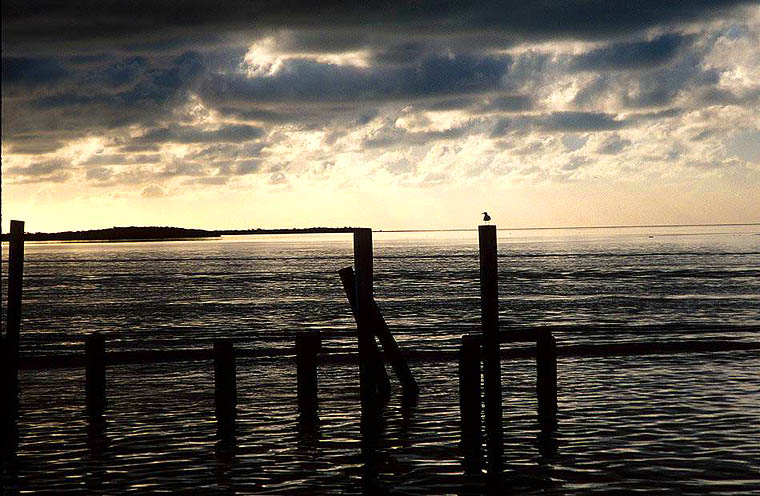 Even a cloudy day on Bimini can be beautiful. ReefNews president and photographer Dr. Jonathan Dowell took this picture one afternoon at the old pier in the harber of North Bimini.
Dark clouds were building over Bimini as a storm approached. The shadows of these clouds mixed with the yellow sunlight of early afternoon gave an eerie glow to the water in the harbor. Framed by the bright light in the distance, the poles of this old pier sticking out from the water look very dark. A dark object against a bright background is called a silhouette (say, "SILL-OH-ET"). Also notice the silhouette of a seagull sitting on the top of one of the poles.
Dr. Dowell took this photograph with a Canon A2 camera and a 28-105mm zoom lens using Fuji ASA 100 slide film. The camera exposure was set for the bright light in the distance, making the shadows in the foreground look even darker. No filter was needed to capture the beautiful yellow light in this picture.
This picture first appeared on the ReefNews CD-ROM "Bimini: Jewel of the Gulf Stream." You also can read more about the island of Bimini and its reefs on the ReefNews website, at http://www.reefnews.com/reefnews/oceangeo/bimini/bimini.html.
--------------------
e-ReefNews and embedded illustrations are
Copyright © 2001, 2003, ReefNews, Inc.
ReefNews ® is a registered trademark of ReefNews, Inc.
Back to e-ReefNews Vol.4 No.15