Volume 5 Number 3
The Scrawled Filefish that Got Away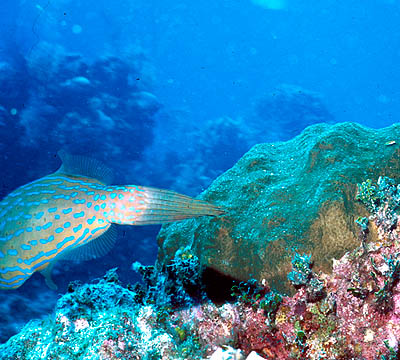 Just for fun, I wanted you to see this photograph. We had just jumped into the water at a reef on the north side of Cayman Brac, and I was swimming along the top of a ridge of corals when I saw this fish below me. Well, a Scrawled Filefish is pretty unusual, and I was really excited to try get a picture of it. But this fish was camera shy, and by the time I could swim down next to it, it already had its head into a tunnel through the corals and was about to disappear. So I reached down as far as I could and held the camera below me, trying to get the camera to where it could take a good picture of this fish.
As you can see, I just missed. Better luck next time!
The Scrawled Filefish is a rather strange looking fish. It swims by wiggling its long dorsal fin, and steering with its huge tail that looks something like a paper fan. It has a long pointed snout, which you can't see in this picture. This fish was just over 2 feet long.
ReefNews photographer Jonathan Dowell tried to take this photo using a Nikonos V camera with a 28 mm lens with a Nikon SB 105 strobe.
--------------------
e-ReefNews and embedded illustrations are
Copyright © 2001, 2003, ReefNews, Inc.
ReefNews ® is a registered trademark of ReefNews, Inc.
Back to e-ReefNews Vol.5 No.3
Back to the ReefNews home page