Volume 5 Number 10
Mated Pair of 4-Eye Butterflyfish at Shangri-La Reef
near San Salvador in The Bahamas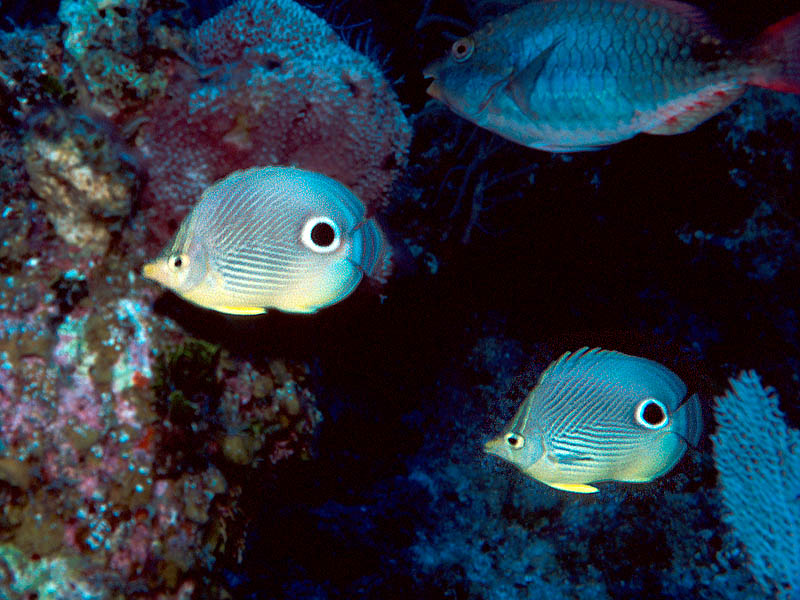 Butterflyfish are some of the most beautiful and most graceful of the fishes of the tropical coral reefs. These two 4-Eye Butterflyfish are a mated pair. That is, they are a female and male that are like a wife and husband that will stay together throughout their lives.
Butterflyfishes are prowling reef fish. They swim through the corals to find worms and other food. They paddle with their tails and with their pectoral fins. They can even use their pectoral fins to swim backward, to back out of a narrow slot once they have explored as they hunt for food. Compare these 4-Eye Butterflyfish with some other Butterflyfishes on the ReefNews Photo Gallery of Angelfishes and Butterflyfishes.
The dark fish at the upper right is a immature Redband Parrotfish. Like the Queen Parrotfish, this fish is an algae eater.
Shangri-La Reef is just offshore from the west coast of San Salvador.
--------------------
e-ReefNews and embedded illustrations are
Copyright © 2001, 2004, ReefNews, Inc.
ReefNews ® is a registered trademark of ReefNews, Inc.
Back to e-ReefNews Vol.5 No.10
Back to the ReefNews home page