Volume 5 Number 13
Sponge Brittle Star on Red Rope Sponge
at Cathedral Reef near Long Cay in Belize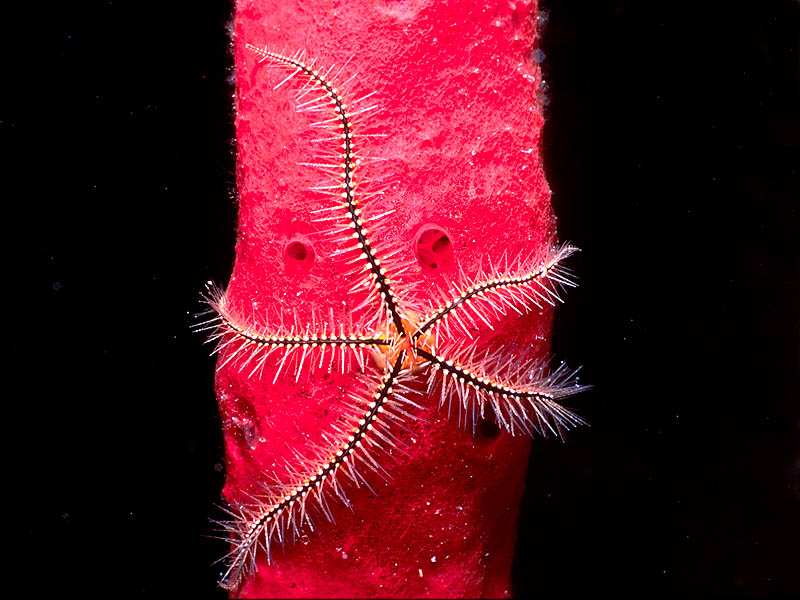 Wow. What else can I say about this picture? I love the colors of this Sponge Brittle Star crawling across this Red Rope Sponge.
This was one of the last dives from our trip to Belize. I was diving with my friend Jay Elson, and we had explored the reef for almost 30 minutes before I saw this tiny Sea Star. There were a few tall Red Rope Sponges growing up into the water like short, dark garden hoses. I looked closer and saw this little Sea Star scurry across the sponge. I knew I had a prize, and carefully moved the camera into position so as not to harm either the sponge or the Sea Star.
Sponge Brittle Stars are like other Brittle-Star Sea Stars. They hide during the day, often down in the pores of sponges. Then they come out at night to hunt for food. Notice all the long spines on the arms of this Brittle Star, which may help the Sea Star feel the corals and find food. This Sponge Brittle Star was tiny, with arms only about 3/4 of an inch long.
Sponges are animals. The Red Rope Sponge in this picture was about 2-feet tall and only 1 inch in diameter.
ReefNews photographer Jonathan Dowell took this photo using a Nikonos V camera with a 28 mm lens with a 1:2 macro closeup tube.
--------------------
e-ReefNews and embedded illustrations are
Copyright © 2004, ReefNews, Inc.
ReefNews ® is a registered trademark of ReefNews, Inc.
Back to e-ReefNews Vol.5 No.13
Back to the ReefNews home page