Volume 5 Number 14
Chub Club: A School of Chubs
at Aquarium Reef near Long Cay in Belize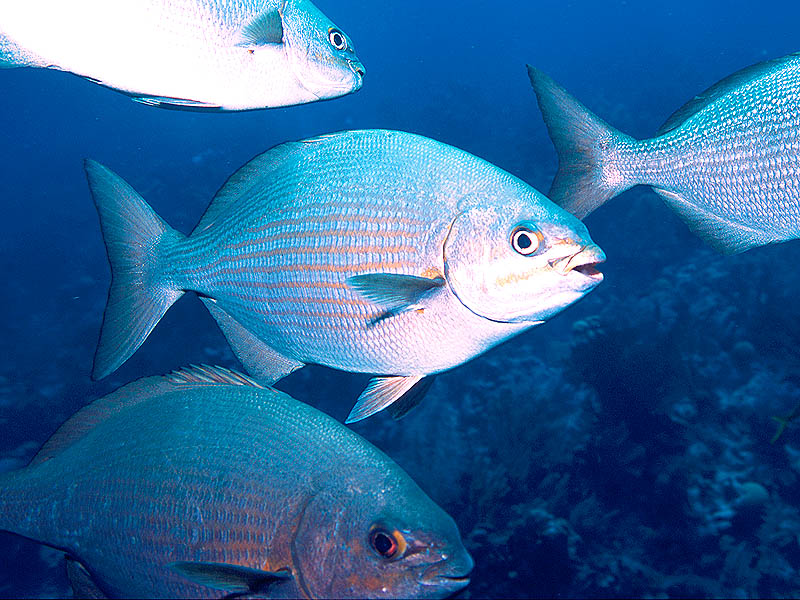 While we were aboard the Nekton Pilot in Belize, we swam among vast schools of Chubs. This was no surprise, because every morning after the breakfast the cook would go out on the back deck with a handfull of tortillas and throw pieces of tortillas into the water. Fish would come from everywhere to feast on the scraps, then when we dove into the water the fish would be all around us.
Chubs are big fish. They can be up to 2.5-feet long, but most are about 20 inches long. That was about the size of the fish in this picture. They are shaped like big footballs. Their sleek bodies and swept-back fins make them fast swimmers, which is important for open water fish that live away from the safety of the coral reef. Their scales give them a pattern of yellow and gray stripes.
ReefNews photographer Jonathan Dowell took this photo using a Canon A2 camera with a 28-105 mm zoom lens in an Ikelite housing with an Ikelite strobe.
--------------------
e-ReefNews and embedded illustrations are
Copyright © 2004, ReefNews, Inc.
ReefNews ® is a registered trademark of ReefNews, Inc.
Back to e-ReefNews Vol.5 No.14
Back to the ReefNews home page