Volume 6 Number 3
Hawksbill Turtle and Strawberry Sponge
at Cumber Wall, Little Cayman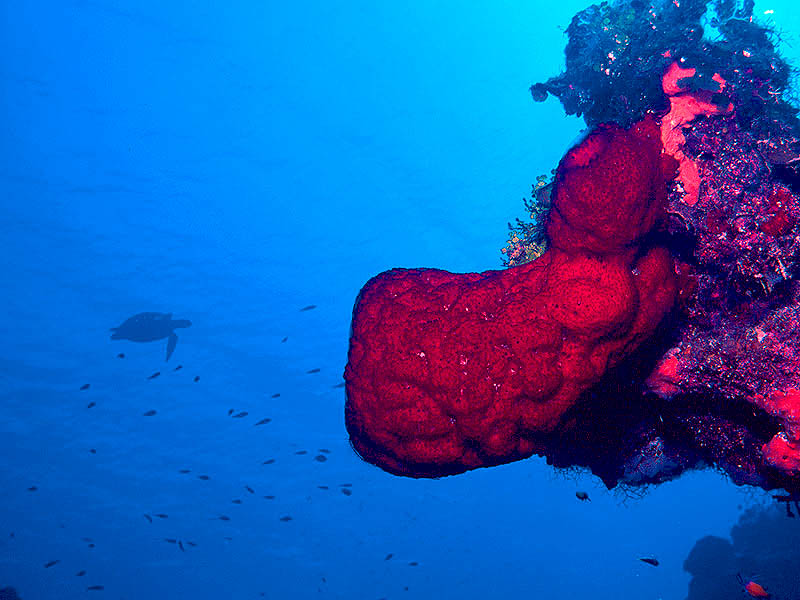 Endangered Hawksbill Turtles eat Sponges, so it is cool to get both of these creatures in the same picture.
All of the Sea Turtles found in the Atlantic Ocean are endangered. The turtle in this picture is a Hawksbill Turtle. You can see a great close-up picture of a Hawksbill Turtle on the ReefNews website, at
http://www.reefnews.com/reefnews/photos/bimini/hawkbill.html
Strawberry Vase Sponges are animals, too. A very simple kind of animal, the Strawberry Vase Sponge is permanently attached to the coralhead on which it is growing. Like other sponges, the Strawberry Vase Sponge eats by trapping microscopic plankton from the ocean as it pumps seawater through its body.
ReefNews photographer Jonathan Dowell took this photo using a Canon A2 camera with a Canon 28-105 mm zoom lens in an Ikelite housing with an Ikelite strobe.
--------------------
e-ReefNews and embedded illustrations are
Copyright © 2004, ReefNews, Inc.
ReefNews ® is a registered trademark of ReefNews, Inc.
Back to e-ReefNews Vol.6 No.3
Back to the ReefNews home page