Volume 6 Number 4
Juvenile French Angelfish at Grand Turk Pier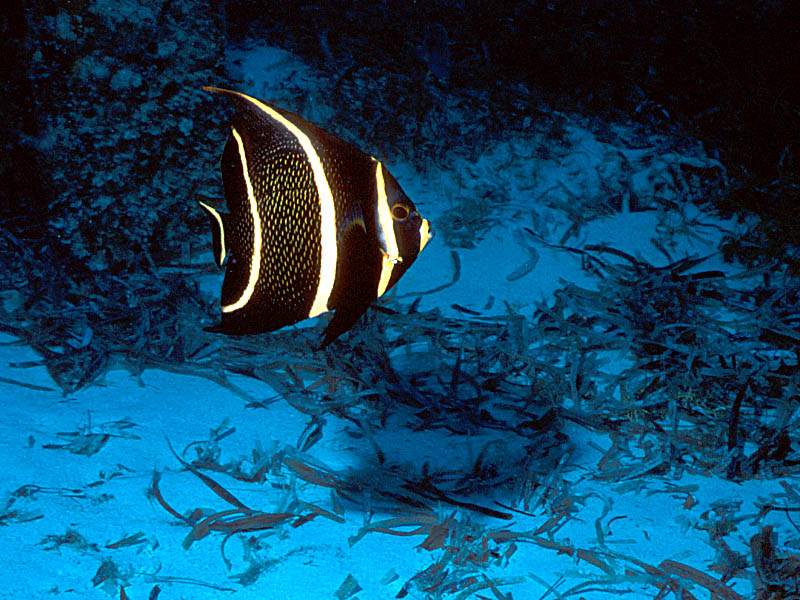 The shallow water close to shore is a great place to find juvenile reef fishes. Juveniles hang out in shallow water to get away from the large predators that hunt in the deeper reef farther from shore. Juvenile fishes especially like shallow water with lots of places to hide, such as near the poles and pilings of a pier.
We saw this juvenile French Angelfish about 30 yards from shore among the pilings of the pier at the southwest corner of Grand Turk. This juvenile was pretty big, about 6 inches long. Because of its size, we knew this fish was an older juvenile and would soon lose its juvenile colors and swim to the deeper reef as an adult.
Juvenile French Angelfish are identified by their "Angelfish" shape, dark navy-blue color, and thin yellow vertical stripes called bar. As the fish gets older, it develops thin yellow highlights on each of its scales. You can see this yellow scale pattern on this fish. Soon, its yellow bars will fade and it will be blue all over with bright scale highlights.
Compare this juvenile French Angelfish with the adult French Angelfish on the ReefNews website, at
http://www.reefnews.com/reefnews/photos/bimini/french.html
--------------------
e-ReefNews and embedded illustrations are
Copyright © 2004, ReefNews, Inc.
ReefNews ® is a registered trademark of ReefNews, Inc.
Back to e-ReefNews Vol.6 No.4
Back to the ReefNews home page