Volume 6 Number 4
West Indies Sea Egg at Grand Turk Pier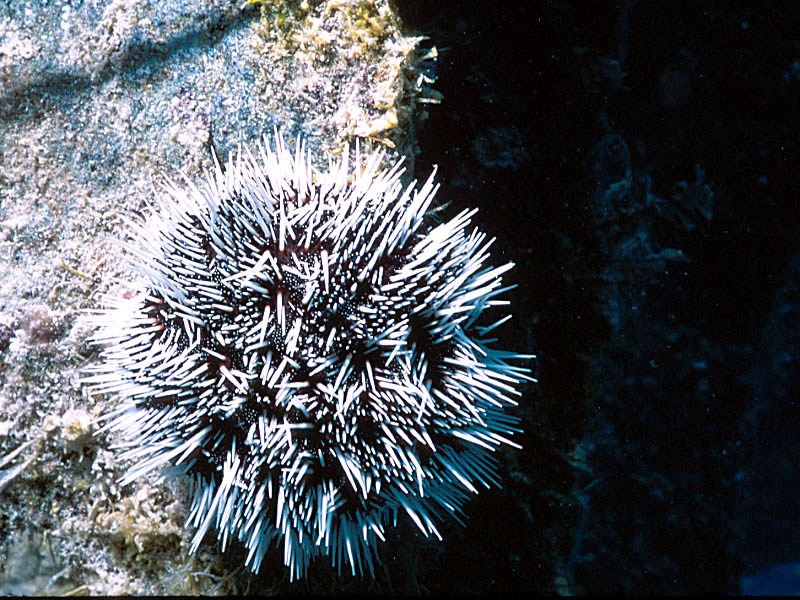 The poles and pilings of a pier are a great place to find all kinds of invertebrates, such as this West Indies Sea Egg. The West Indies Sea Egg is a type of Sea Urchin, identified by its ball-shaped body covered by a thick coat of spines.
This West Indies Sea Egg was about 5 inches across and maybe 3 inches thick. Its short spines were each about 5/8ths of an inch long. Notice the pattern of the white spines against the dark skin of this West Indies Sea Egg.
Sea Urchins are an important part of the coral-reef ecosystem because Sea Urchin eat plants called algae. Without algae eaters such as the Sea Urchins, the algae could grow on top of the corals and smother them. Without these algae eaters, the corals would be in a lot of danger, with bad consequences for all of the other animals of the coral reef. You can read all about why corals are important to all the animals of the reef in the ReefNews Guide to Corals on the ReefNews website, at http://www.reefnews.com/reefnews/index/corals.html
The ReefNews Guide to Corals includes some other pictures of important algae eaters.
--------------------
e-ReefNews and embedded illustrations are
Copyright © 2004, ReefNews, Inc.
ReefNews ® is a registered trademark of ReefNews, Inc.
Back to e-ReefNews Vol.6 No.4
Back to the ReefNews home page