Volume 6 Number 7
School is in Session for Horse-Eye Jacks
at Long Cay Ridge Reef in Belize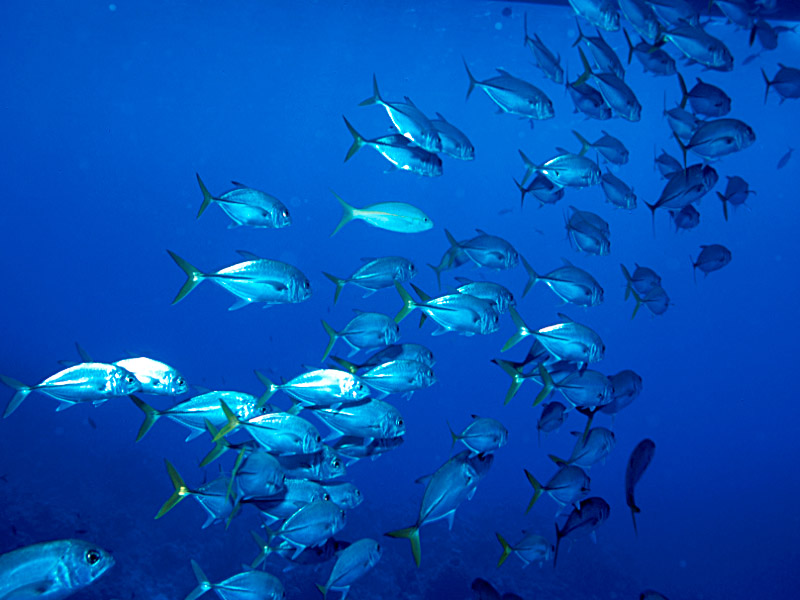 Many open-water fishes swim in schools for protection and to help each other hunt. These Horse-Eye Jacks are no exception.
We saw these big Horse-Eye Jacks above the top of the wall at Aquarium Reef in Belize. Each fish was about 16 inches from nose to tail. Horse-Eye Jacks are built for speed, with streamlined bodies, swept-back fins, and large forked tails. Notice the yellow tail and the black stripe from the center of the body back to the tail. Horse-Eye Jacks get their name because of their large eyes. These big eyes give these predators good vision to see their prey. Horse-Eye Jacks eat fish that they chase and catch with their speed.
Near the center of this picture is a different fish. Can you spot the Yellowtail Snapper, a little smaller at only 14 inches long and with a yellow stripe on its side?
ReefNews President Jonathan Dowell took this picture using a Canon A2 camera with a 28-105 mm zoom lens in an Ikelite housing with an Ikelite strobe.
--------------------
e-ReefNews and embedded illustrations are
Copyright © 2004, ReefNews, Inc.
ReefNews ® is a registered trademark of ReefNews, Inc.
Back to e-ReefNews Vol.6 No.7
Back to the ReefNews home page