Volume 6 Number 7
Speckled Hermit Crab Shows Off its Blue Eyes
Near Cayman Brac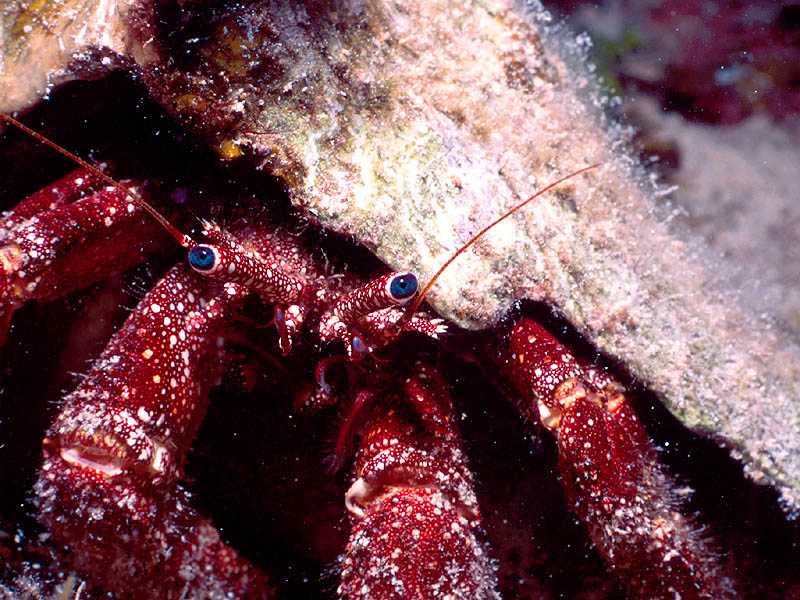 Speckled Hermit Crabs are small red crabs covered with a pattern of snow-white spots. Like other Hermit Crabs, Speckled Hermit Crabs get their name hermit because they live and hide inside of shells of Mollusks. This Speckled Hermit Crab was medium sized, about 5 inches from toe to toe, living inside an old Conch shell.
Speckled Hermit Crabs don't kill the Conchs to take over their shells. Rather, after the Conch dies, its shell is left behind on the reef. Soon another animal such as this Speckled Hermit Crab finds the empty shell and uses it for a shelter.
Conchs (say, "konks") are big snails. Conchs are members of a group of animals called Mollusks, which are the familiar shell-bearing animals of the oceans such as clams and oysters.
Learn more about other species of Crabs from these ReefNews webpages:
King Crab of Bimini
Batwing Coral Crab of Bimini
Arrow Crab of Belize
ReefNews President Jonathan Dowell took this picture using a Nikon Nikonos V camera with a 28 mm lens with a 2:1 closeup kit and SB105 TTL strobe.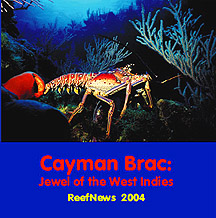 You can see many other pictures of marine creatures including crabs and lobsters on the ReefNews CD-ROM,
Cayman Brac: Jewel of the West Indies.

--------------------
e-ReefNews and embedded illustrations are
Copyright © 2004-2005, ReefNews, Inc.
ReefNews ® is a registered trademark of ReefNews, Inc.
Back to e-ReefNews Vol.6 No.8
Back to the ReefNews home page