Volume 7 Number 1
Open Wide: Hawksbill Turtle Eats a Sponge
at Bus Stop Reef near Little Cayman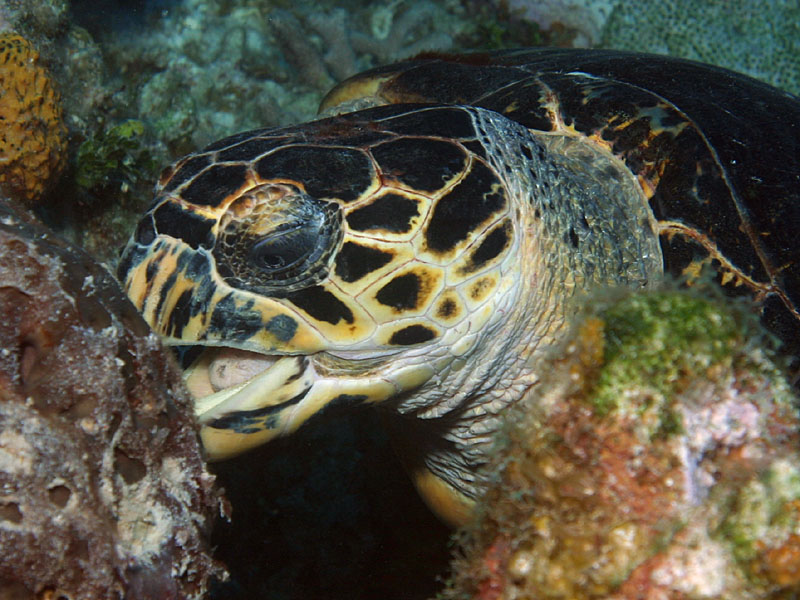 The Hawksbill Turtle is an endanged species. Like other Sea Turtles, Hawksbill Turtles are in danger of disappearing forever because of several ways people mistreat these beautiful animals. Sea Turtles are hunted too much, for their shells and for food. Sea Turtles are hit by careless drivers in speedboats when the Turtles swim to the surface to breathe. And Sea Turtles are running out of places to build nests on beaches because of too much development and trash on beaches. In spite of all this, I have been really lucky to see Hawksbill Turtles on many of my trips to the oceans.
I had heard Sea Turtles eat sponges, but I never hoped I'd ever get to see a Sea Turtle eat a sponge. I was so thrilled to see this Hawksbill Turtle as it ate this sponge.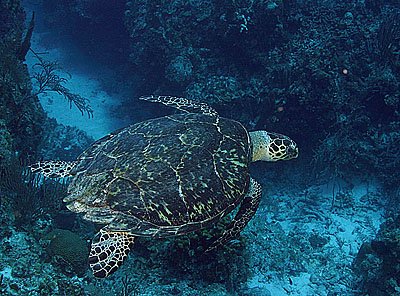 We were diving near the island of Little Cayman in the Cayman Islands on June 12, 2005. We were swimming along a wall of coral about 40 feet underwater when this big Hawksbill Turtle swam up beside us. We were thrilled to see this big beautiful Turtle. We were surprised that it didn't swim away from us. It swam beside us, then it swam down to the reef. It had seen this big Sponge on the reef and was ready for lunch! The Turtle sat down on top of some of the corals, propped itself up with its front fins, and began to eat the Sponge.
It was funny to watch how this Hawksbill Turtle would eat the sponge. The Turtle would rear back on its fins and pull its head back. Then it would open its mouth really wide, like it was going to throw itself headfirst into the Sponge and take a huge bite. But instead, the Turtle would gently move its head toward the Sponge and take a tiny bite using only the very tip of its beak. It did this over and over while we watched, and didn't seem to mind as we swam around and took pictures. Finally, I worked up the courage to swim in front of the Turtle, after I felt like being in front of the Turtle wouldn't scare the Turtle away. That is when I took this picture. Sure enough, the Turtle didn't seem to mind, and kept eating as I swam back behind it and took more pictures.
We watched this Hawksbill Turtle for nearly 20 minutes before we had to leave and swim back to the dive boat.
This Hawksbill Turtle was about 3 feet long. The Sponge it was eating was a Leathery Barrel Sponge, nearly 1 foot in diameter.
ReefNews President Jonathan Dowell took this picture using a Canon 10D digital camera with a Canon 28-105 mm zoom lens in an Ikelite housing with an Ikelite strobe.
--------------------
e-ReefNews and embedded illustrations are
Copyright © 2005, ReefNews, Inc.
ReefNews ® is a registered trademark of ReefNews, Inc.
Back to e-ReefNews Vol.7 No.1
Back to the ReefNews home page