Volume 7 Number 2
Face to Face with a Balloonfish
at End-of-Island Reef near Cayman Brac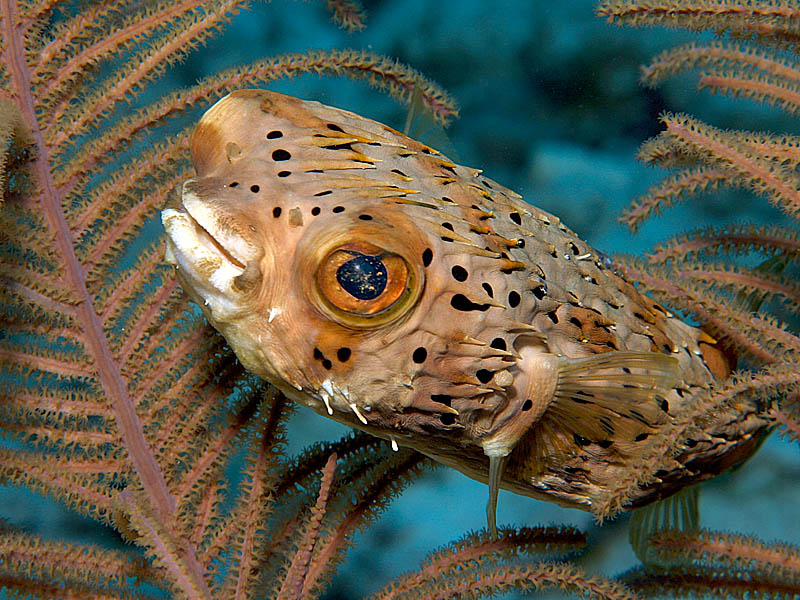 This Balloonfish is really spectacular. This picture shows off the amazing colors of this little fish. Its body is several shades of tan covered by tiny black spots and large orange-brown blotches. It is easy to see the spines that cover the Balloonfish's body. Notice that the spines on its head are the longest.
We were diving near the island of Cayman Brac in the Cayman Islands on June 13, 2005. We were swimming along a wall of coral that makes a short underwater cliff near the island. The water was filled with many different kinds of fishes. We were swimming at about 45 feet underwater when we saw this Balloonfish.
I saw how the Balloonfish was swimming, and realized it was going to swim away from from other divers that were nearby. I thought that if I swam ahead of it a little bit it might not be afraid that I was chasing it or trying to threaten it. I found these colonies of Sea Rod Corals and waited for the little Balloonfish to come to me. So I prepared my camera for a closeup shot and just waited. Sure enough, the Balloonfish swam right between the long branches of the Sea Rod Corals and paused to look at me. That's how I got this terrific shot.
This Balloonfish was maybe 6 or 7 inches long. It swam by paddling with its pectoral fins, those big fins on either side of its body. If you look closely you will notice two other fins farther back on its body that it uses to steer and spin as it moves through the water.
ReefNews President Jonathan Dowell took this picture using a Canon 10D digital camera with a Canon 28-105 mm zoom lens in an Ikelite housing with an Ikelite strobe. In June 2005, this picture won first prize for a digital picture at the Nikon School of Underwater Photography on Cayman Brac.
--------------------
e-ReefNews and embedded illustrations are
Copyright © 2005, ReefNews, Inc.
ReefNews ® is a registered trademark of ReefNews, Inc.
Back to e-ReefNews Vol.7 No.2
Back to the ReefNews home page