Volume 7 Number 3
Odd Lines of a Scrawled Filefish
at West Chute Reef near Cayman Brac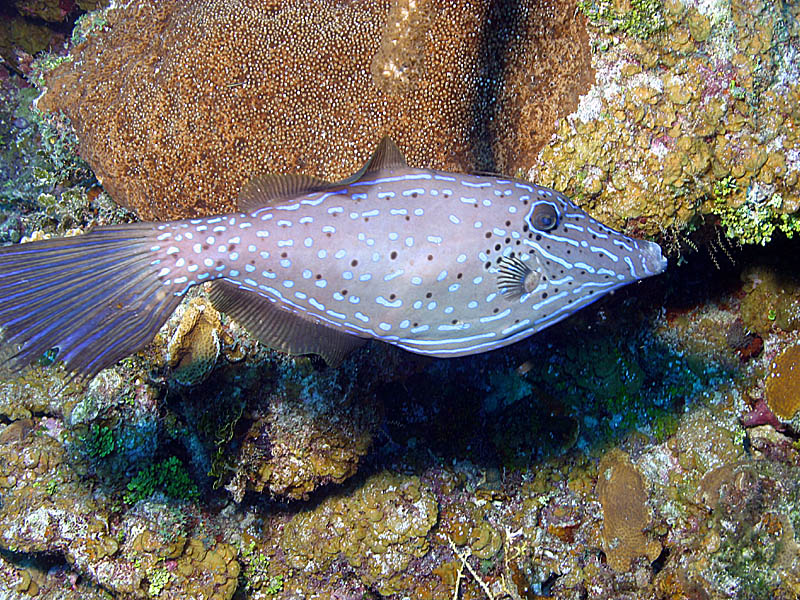 Scrawled Filefish are as shy as they are funny looking. It is hard to get very close to these big fish, as they will simply swim away if divers get too close to them. So I was lucky to get to see this peculiar fish as it swam near me along the reef.
West Chute is a little canyon that cuts through the reef between the north shore of Cayman Brac and the underwater dropoff offshore. Swimming along the sand at the bottom of this little canyon, I saw this Scrawled Filefish swim along the wall of the canyon. By waiting quietly, soon this fish approached me close enough to for me to take this picture.
This adult Scrawled Filefish was about 30 inches long. Notice the many spines in its tail fin. The Scrawled Filefish swims by wiggling its dorsal fin from side to side. You can see how the dorsal fin is bent sideways in this picture.
Here is another picture of the Scrawled Filefish showing the detail of its head.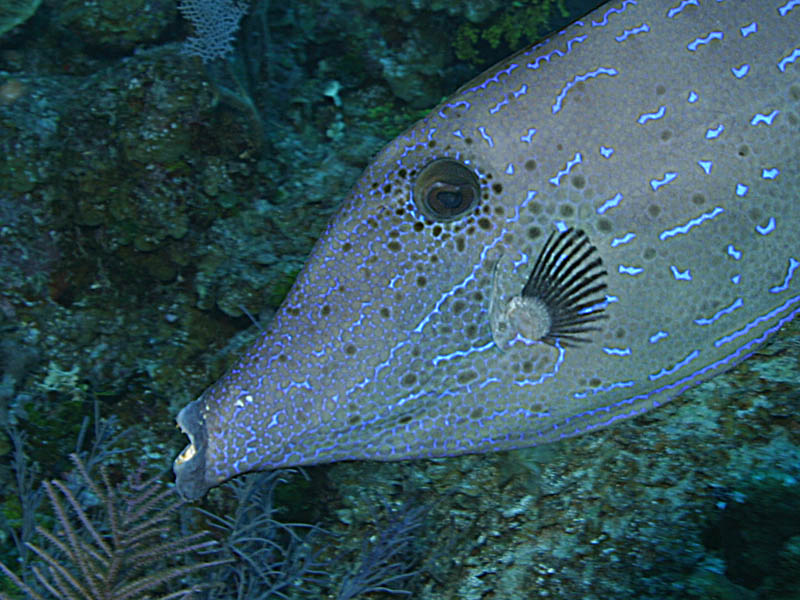 ReefNews President Jonathan Dowell took these pictures using a Canon 10D digital camera with a Canon 28-105 mm zoom lens in an Ikelite housing with an Ikelite strobe.
--------------------
e-ReefNews and embedded illustrations are
Copyright © 2005, ReefNews, Inc.
ReefNews ® is a registered trademark of ReefNews, Inc.
Back to e-ReefNews Vol.7 No.3
Back to the ReefNews home page