Volume 4 Number 13
Caribbean Common Octopus and Friends
Near the Beach at Bimini, The Bahamas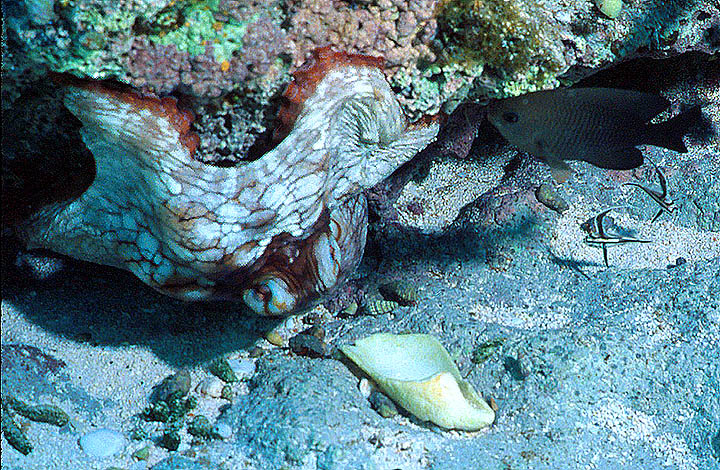 The rocks and corals near the beach are good places to find Octopods. We saw this Caribbean Common Octopus five feet underwater under a coral ledge near the beach on the west coast of Bimini, The Bahamas. This Octopus could change colors very quickly. Several of the ReefNews staff saw this Octopus on the expedition to Bimini in June, 2001.
The name Octopod means an animal that has eight feet. The Caribbean Common Octopus has eight tentacles. The suckers on these tentacles allow it to hold on to the bottom of this ledge. Its powerful tentacles can pull apart the shells of shellfish that this Octopus eats. An Octopus often has a lair - a small cave where it hides and rests. This lair is often surrounded by a pile of shells from all the shellfish it has eaten.
Nearby in this picture are three fish. It is easy to see the two juvenile Highhats with their long dorsal fins, just to the right of the Octopus. Harder to see is the dark shape of a 4-inch-long Dusky Damselfish, right above the two Highhats.
This picture first appeared on the ReefNews CD-ROM "Bimini: Jewel of the Gulf Stream." You also can read more about the island of Bimini and its reefs on the ReefNews website, at http://www.reefnews.com/reefnews/oceangeo/bimini/bimini.html.
--------------------
e-ReefNews and embedded illustrations are
Copyright © 2001, 2003, ReefNews, Inc.
ReefNews ® is a registered trademark of ReefNews, Inc.
Back to e-ReefNews Vol.4 No.13