Volume 5 Number 3
Green Moray gets a Bath at Chimneys Wall
(Be sure to scroll down to see both pictures!)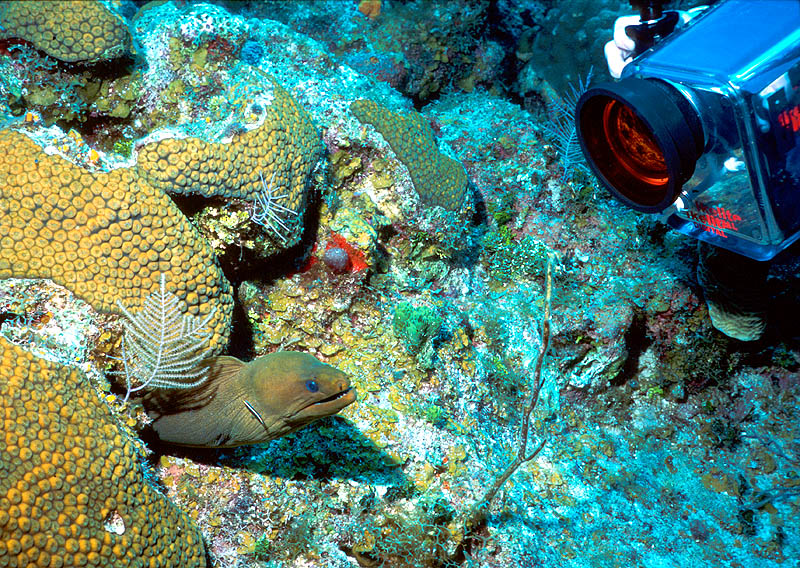 How does a Green Moray Eel take a bath? Well, it takes a bath with the help of a Goby! A Goby is a tiny fish that is common on the coral reefs of the Caribbean. Gobies wait on top of the corals for a big fish to come along, and then the little Goby will swim all over the big fish and clean it.
I have seen more Green Morays at Cayman Brac than I have anywhere else in the Caribbean. That is probably just a coincidence, but I sure have lots of Green Moray photographs from Cayman Brac. I took this picture of a Green Moray being cleaned by a small, yellow Goby near the top of the dropoff at the reef called Chimneys near Little Cayman, just west of Cayman Brac. Tessa Dowell was using her video camera to take pictures of the spectacle, as this Green Moray was busy swimming through the reef while being cleaned by the Goby. The little yellow Goby looks like a diagonal stripe on the side of the Green Moray. The Green Moray didn't stop swimming, and it carried the Goby with it as it swam through the reef. The little Goby was holding on to the Moray, giving the Moray a good cleaning as it went along for the ride. You can see Tessa's video camera at the upper right in this picture.
Green Moray Eels are fish. Like other eels, it has a long dorsal fin that runs along its whole length on the top of its body. It swims by wiggling from side to side through the water. Green Moray Eels have purple eyes. This Green Moray was about 3 feet long.
I am not sure what kind of Goby was cleaning this Green Moray. There are many types of Gobies that have yellow stripes and yellow noses, and they are all about 1 inch long, so there is not enough information to tell what kind of Goby is in this picture.
The next picture shows a close-up of just the Green Moray and the Goby. You can see little spots of sand all over the Moray. This is the type of dirt that the Goby will find and remove from the Moray. The Goby also will clean up any dead skin or scales, clean out any cuts or infections, and will even swim into the Moray's mouth and clean its teeth!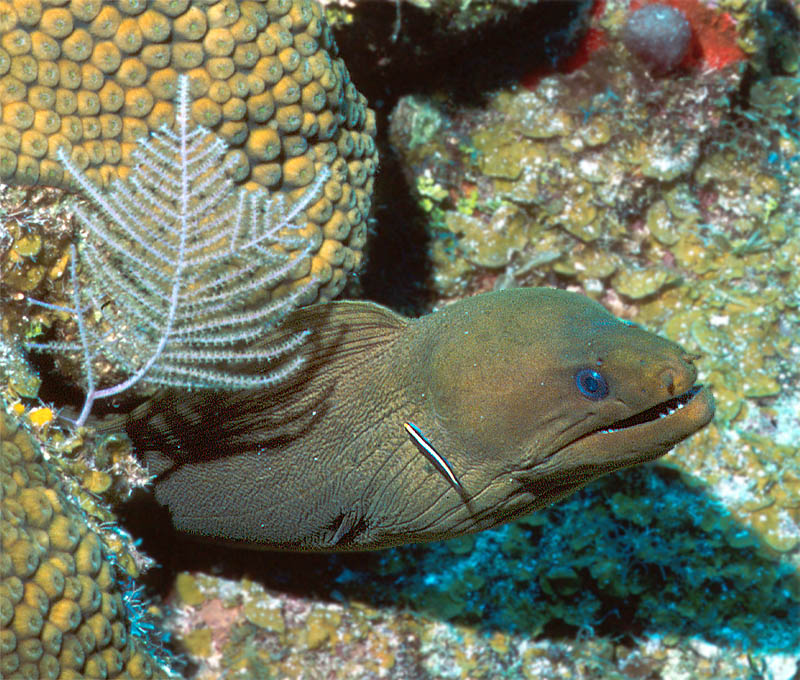 This Green Moray was swimming through a tunnel between lots of healthy corals. The small yellow, brown, and green bumps in this picture are coral polyps. Each bump is one coral animal. Learn more about corals on the ReefNews Guide to Corals.
ReefNews photographer Jonathan Dowell took this photo using a Nikonos V camera with a 28 mm lens with a Nikon SB 105 strobe.
--------------------
e-ReefNews and embedded illustrations are
Copyright © 2001, 2003, ReefNews, Inc.
ReefNews ® is a registered trademark of ReefNews, Inc.
Back to e-ReefNews Vol.5 No.3
Back to the ReefNews home page