Volume 5 Number 16
Trumpetfish Cleaned by Tiny Goby
on a Reef near Belize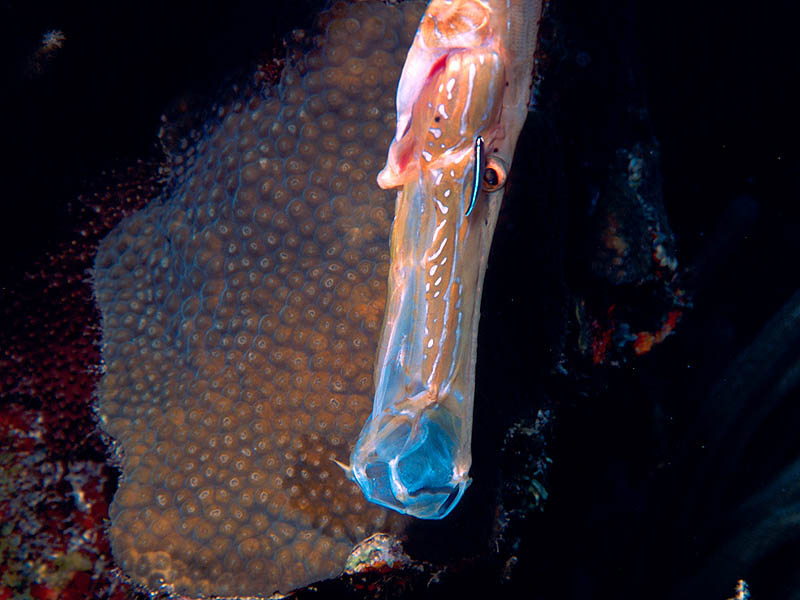 A Goby is a small fish that is the doctor and dentist of the Coral Reef. We've seen Gobies doing their job of cleaning reef fish on other Reefnews webpages, but this Goby was really tiny. This Goby was only about 3/8ths of an inch long. We saw these fish at a reef near Belize.
This black Goby with blue and yellow stripes was probably a young Sharknose Goby. The bright stripes on the backs of Gobies are an advertisement to other fish, attracting fish to swim up and be cleaned. Then the Goby will swim all over the big fish, eating away dead skin and dead scales while removing dirt and cleaning up infected cuts. Gobies will even swim into the mouths of the big fish to clean their teeth. The big fish seem not to want to eat the Gobies, because Gobies are seldom found by scientists who look inside the stomachs of fish they catch to study.
The big fish enjoying a cleaning in this picture is a Trumpetfish. Trumpetfish are hunters who eat other fish. This Trumpetfish was about 18 inches long, and about 1/2 of an inch wide. You can see a great picture of a Trumpetfish elsewhere on the ReefNews website, at http://www.reefnews.com/reefnews/photos/trumpet.html.
Compare this young Sharknose Goby with another Goby cleaning a Green Moray Eel in e-ReefNews Vol. 5,&nbspNo. 3.
ReefNews photographer Jonathan Dowell took this photo using a Canon A2 camera with a 28-105 mm zoom lens in an Ikelite housing with an Ikelite strobe.
--------------------
e-ReefNews and embedded illustrations are
Copyright © 2004, ReefNews, Inc.
ReefNews ® is a registered trademark of ReefNews, Inc.
Back to e-ReefNews Vol.5 No.16
Back to the ReefNews home page