Volume 6 Number 6
Star Coral Faces Erosion in the Shallows
at Ol' Blue Reef near Bonaire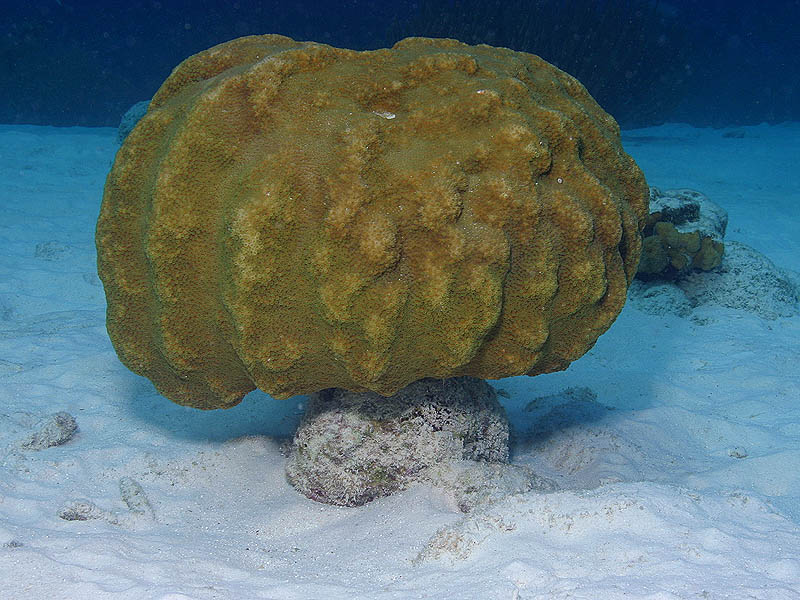 Diving from shore at Bonaire, we donned our scuba gear and waded in from the beach to swim out to the coral reefs near the shore. Swimming out from shore was a good experience, as we got to see things many divers would never see diving from boats anchored offshore in deeper water.
I was surprised by all the healthy corals close to shore. Bonaire has experienced a few hurricanes in the past few years, and these hurricanes and other storms have brought big waves to Bonaire's normally tranquil west-coast beaches. Big waves are a threat to corals in shallow water, as the waves can cause damage both from their force and by the sand they stir up that can settle onto the coral polyps.
But this Star Coral was very healthy in spite of being in water only 10 feet deep and only about 20 feet from the shoreline. This colony is a Boulder Star Coral. The colony was about 2 feet tall and 4 feet across. Each coral polyp was about 1/4 of an inch across, so there were as many as 65000 animals on the surface of this colony. There were several of these big, round Boulder Star Corals at Ol' Blue Reef.
Notice how the healthy brown coral doesn't extend all the way to the sand! Instead, the colony is held up into the water by a short post of old, dead coral skeleton. What has happened is that the scouring action of the waves has moved the sand back and forth against the bottom of the colony, wearing away at the old skeleton until it was worn down to a small fraction of its original diameter. Eventually, the erosion of the sand along with the force of the waves may topple the colony into the sand.
For a great closeup picture of some Star Coral Polyps feeding at night, check out
e-ReefNews Volume 5 Number 4 - Star Corals at Night at Charlie's Reef, Cayman Brac
ReefNews President Jonathan Dowell took this picture using a Canon 10D digital camera with a 28-105 mm zoom lens in an Ikelite housing with an Ikelite strobe.
--------------------
e-ReefNews and embedded illustrations are
Copyright © 2004, ReefNews, Inc.
ReefNews ® is a registered trademark of ReefNews, Inc.
Back to e-ReefNews Vol.6 No.6
Back to the ReefNews home page