Volume 6 Number 10
In this issue:
- Problems on Bimini? Development vs. Habitat
- Morning Rush: Stoplight Parrotfish at Andrea Reef near Bonaire
- Rare Blues: Blue Parrotfish at Andrea Reef near Bonaire
- Vanishing Yellow-Shouldered Parrots are Namesake of the Parrotfishes
In this issue
Disappearing Island Resources
This month we have some beautiful pictures but also some bad news. Many island resources are disappearing, and mostly because of too many bad effects from the actions of people. So, please read about loss of habitat on Bimini, see the beautiful Parrotfishes that are among the many reef fishes that may disappear along with our reefs, and see two beautiful Yellow-headed Parrots that are among species of wild birds that are disappearing from the Caribbean.



Problems on Bimini? Development vs. Habitat Back to Top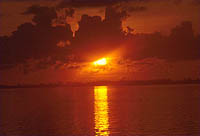 We've recently received some sad news about the loss of wilderness on the island of Bimini and in its surrounding oceans. People are building buildings and docks along the North Sound, the big bay on North Bimini. This construction is cutting down Mangrove forests. Mangrove trees are important along shores as their roots keep waves from eroding the shore. The roots also make habitat for baby fishes who need protected places in shallow water. Without these protected nurseries, the fish of the reef will be seriously threatened. Construction along the shore and dredging channels through shallow water stirs up dirt and sand, making a kind of pollution in what would otherwise be clear shallow water. Baby fish can't survive that kind of pollution. That makes the loss of nursery habitat worse. And construction of docks and waterways is destroying reefs near the shore.
Please check out these websites and journals with more information and pictures about the problems with this loss of habitat. This information comes from good sources, including the University of Miami and the Bahamas Journal of Science:
Overview of Bimini Destruction
News Articles about Bimini Destruction
Bahamas Journal of Science Vol. 9, No. 2, Bimini Special Issue
Please talk about this loss of habitat in your classrooms. What does this loss of habitat mean to you? What do you think it means for the future of coral reefs in the Caribbean? What about jobs created for people by the construction? Is that more or less important than the wilderness? Is there any alternative, such as a way to make jobs without destroying all the forest and reef? If you are upset by this, please write to the addresses on the University of Miami website about the Destruction of Bimini to express your concern.

Morning Rush: Stoplight Parrotfish at Andrea Reef near Bonaire Back to Top

Rare Blues: Blue Parrotfish at Andrea Reef near Bonaire Back to Top

Vanishing Yellow-Shouldered Parrots are Namesake of the Parrotfishes Back to Top
---
Thanks for reading this issue of e-ReefNews!
Please share our newsletter and website with students and teachers you may know.
e-ReefNews is now distributed to students and teachers in 30 states and 14 countries. Help us add new locations to our subscription list! Please invite your friends to subscribe, using the on-line form at
http://www.reefnews.com/reefnews/news/subscrib.html
Order e-ReefNews Volumes 1, 2, 3, and 4 on CD-ROM from the ReefNews Online Catalog:
http://www.reefnews.com/reefnews/catalog
ReefNews is sponsored by:
Los Alamos National Laboratory Foundation,
Los Alamos National Bank,
Los Alamos Medical Center,
and many generous individuals.
e-ReefNews and embedded illustrations are
Copyright © 2005 ReefNews, Inc.
ReefNews ® is a registered trademark of ReefNews, Inc.
Back to the ReefNews homepage, www.reefnews.com