Volume 6 Number 10
Rare Blues: Blue Parrotfish
at Andrea Reef near Bonaire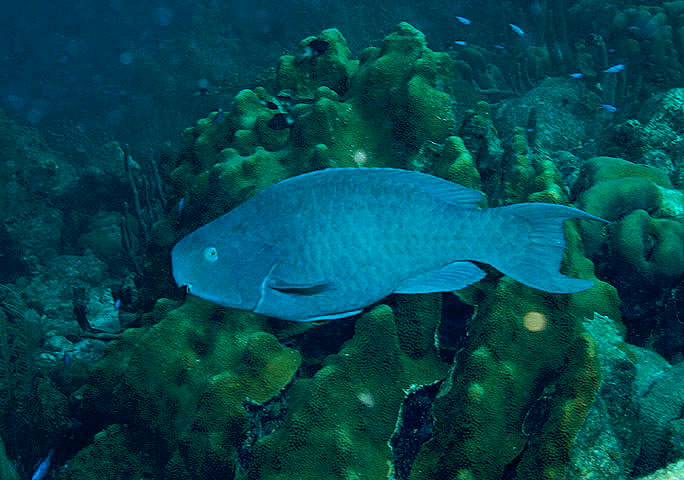 We've seen Parrotfishes before, but this Blue Parrotfish is really special. Blue Parrotfish are one of the biggest of the Parrotfish. Adults can be over 3 feet long, and this one was about 3 long. They are quite a bit bigger than Stoplight Parrotfish or Princess Parrotfish. Blue Parrotfish are uncommon, but I've seen several near Bonaire.
This big Blue Parrotfish has a bump on its forehead. This is normal for Blue Parrotfish. But other Parrotfishes don't have this bump. Compare the nose of this Blue Parrotfish to the noses of the Stoplight Parrotfish and Princess Parrotfish. Are they the same, or are they different? Why do you suppose this fish has a squared-off snout??
Parrotfishes eat algae and corals. Learn more about their diet on the ReefNews Guide to Corals.
ReefNews President Jonathan Dowell took this picture using a Canon 10D digital camera with a Canon 28-105 mm zoom lens in an Ikelite housing with an Ikelite strobe.
--------------------
e-ReefNews and embedded illustrations are
Copyright © 2004-2005, ReefNews, Inc.
ReefNews ® is a registered trademark of ReefNews, Inc.
Back to e-ReefNews Vol.6 No.10
Back to the ReefNews home page