Volume 7 Number 1
Second Course: Queen Angelfish Eats a Sponge
at Cemetary Wall Reef near Cayman Brac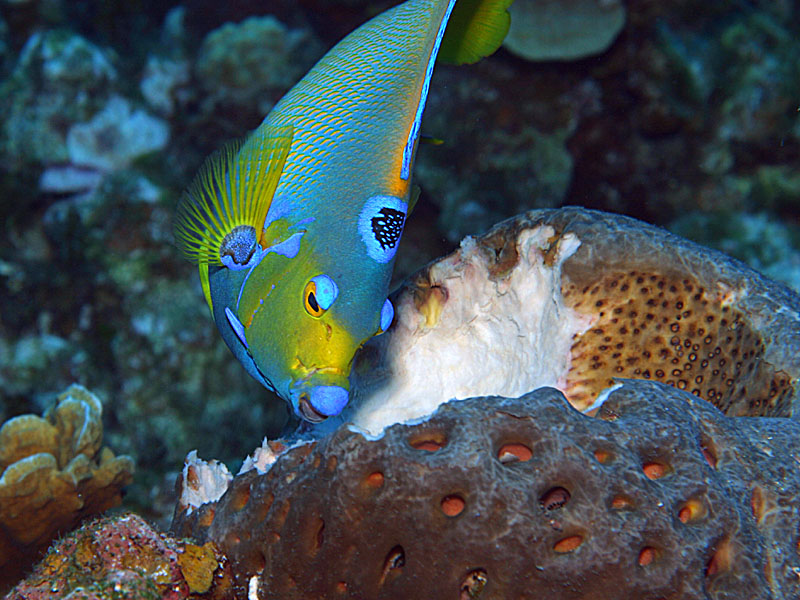 This big, beautiful Queen Angelfish was eating a Leathery Barrel Sponge. This Queen Angelfish was nearly 12 inches long. That is about the right size for an adult Queen Angelfish. This Leathery Barrel Sponge had been broken open earlier by a Sea Turtle. The Queen Angelfish was taking advantage of the exposed white insides of the sponge. The tough, brown outer coating of the Sponge might be too tough for the Queen Angelfish to have eaten. The wounded Sponge left by the Sea Turtle gave an opportunity for this Queen Angelfish to have a feast.
We were diving near the island of Cayman Brac in the Cayman Islands on June 13, 2005. We were swimming along a sand chute, a big hallway with a sandy bottom that cut through the coral reef between the island and the wall of coral at the edge of the abyss. This sand chute made a good place to swim low and look up at the corals on either side of the hallway to take good pictures. We were swimming at about 55 feet underwater when I saw this Queen Angelfish.
The Queen Angelfish didn't stay long at this Leathery Barrel Sponge. It took several bites of the white insides of the Sponge, then swam off along the coral reef toward deeper water.
ReefNews President Jonathan Dowell took this picture using a Canon 10D digital camera with a Canon 28-105 mm zoom lens in an Ikelite housing with an Ikelite strobe.
--------------------
e-ReefNews and embedded illustrations are
Copyright © 2005, ReefNews, Inc.
ReefNews ® is a registered trademark of ReefNews, Inc.
Back to e-ReefNews Vol.7 No.1
Back to the ReefNews home page