Volume 7 Number 2
The Toothy Smile of a Great Barracuda
at Bus Stop Reef near Little Cayman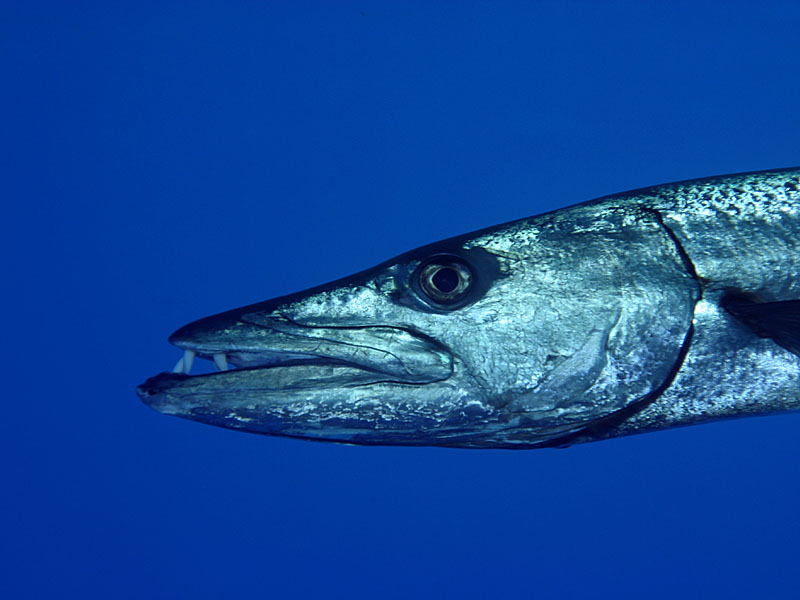 Barracudas often like to hang out in the shade to get away from the warm summer sun. So it was no surprise to find this 4-foot-long Great Barracuda hanging out 10 feet underwater near the shade of our dive boat.
We were diving near the island of Little Cayman in the Cayman Islands on June 12, 2005. Bus Stop Reef is a terrific dive site with numerous corals and sponges. This was the same dive where we had watched a Hawksbill Turtle eating a Sponge that was featured in e-ReefNews Vol.7 No.1.
Barracudas have shiny silver scales that look like metal. These shiny scales can make it hard to take a good picture, as the light from the camera's strobe can be a very bright reflection. So I was fortunate to get this good picture. Notice the clear blue water in the background.
Great Barracudas are long and slender with big tail fins. This design makes them very fast swimmers. When they are hungry, they will pick out an individual fish and then shoot through the water like a lightning bolt to catch their prey. But Great Barracudas must not eat very often, as it is very unusual to get to see one catching a fish.
ReefNews President Jonathan Dowell took this picture using a Canon 10D digital camera with a Canon 28-105 mm zoom lens in an Ikelite housing with an Ikelite strobe.
--------------------
e-ReefNews and embedded illustrations are
Copyright © 2005, ReefNews, Inc.
ReefNews ® is a registered trademark of ReefNews, Inc.
Back to e-ReefNews Vol.7 No.2
Back to the ReefNews home page