Volume 7 Number 4
Dead Man's Fingers are Really a Healthy Coral
at Ol' Blue Reef near Bonaire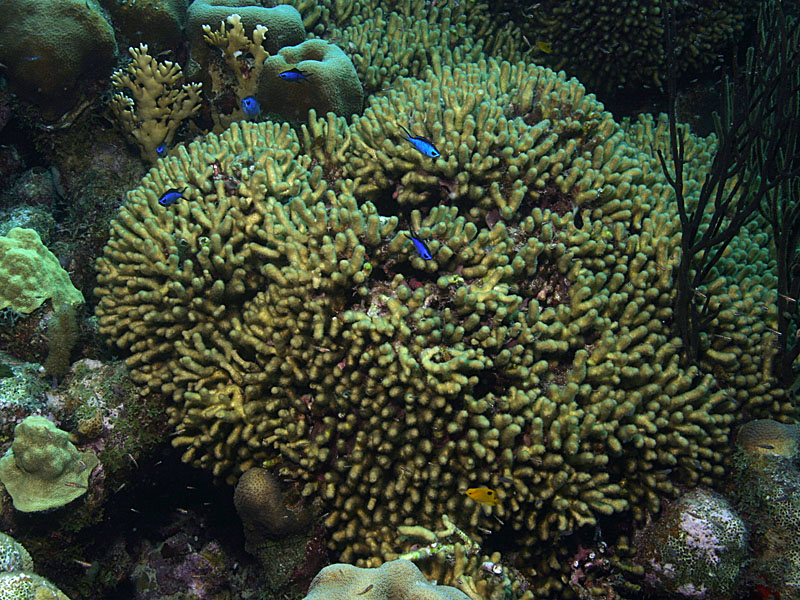 The Finger Coral has little branches each about 3 or 4 inches long. I like to call this coral "Dead Man's Fingers". This coral is really healty, covering a large area of the reef and without any dead or diseased surfaces. The island of Bonaire is home to many very healthy corals.
The little blue fish swimming above this coral are Blue Chromises. Each Blue Chromis is about 3 inches long.
We saw these Dead Man's Fingers at a favorite site: Ol' Blue Reef near the island of Bonaire. Read all about this site on the ReefNews pages about Bonaire.
ReefNews President Jonathan Dowell took these pictures using a Canon 10D digital camera with a Canon 28-105 mm zoom lens in an Ikelite housing with an Ikelite strobe.
--------------------
e-ReefNews and embedded illustrations are
Copyright © 2005, ReefNews, Inc.
ReefNews ® is a registered trademark of ReefNews, Inc.
Back to e-ReefNews Vol.7 No.4
Back to the ReefNews home page