Volume 7 Number 4
Strange Mask for Halloween: Rock Beauty with Red Markings
at Ol' Blue Reef near Bonaire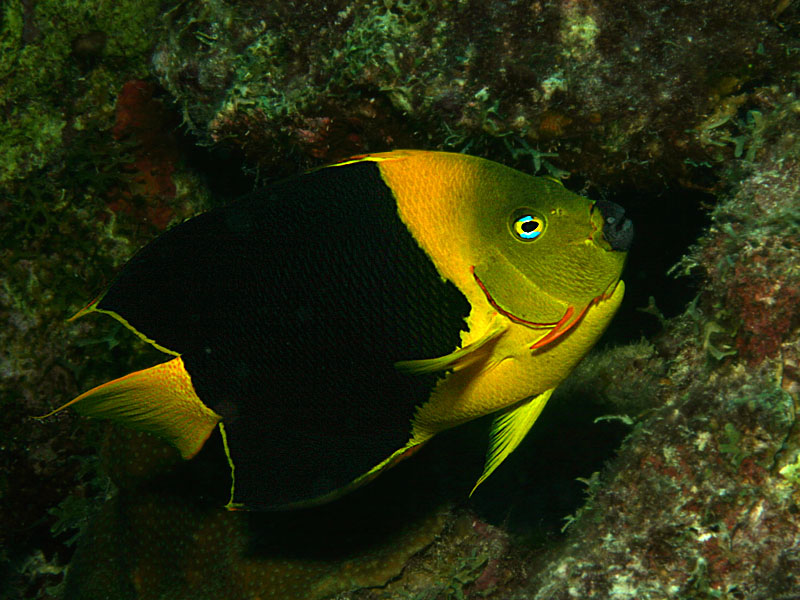 The Rock Beauty Angelfish is a shy fish. For some reason, I have more trouble taking pictures of this fish than most of the other kinds of Angelfishes. The Rock Beauty is small, usually only 8 or 10 inches long. The Rock Beauty in this picture was on the large side, about 10 inches long.
The Rock Beauty is identified easily by its yellow and black markings. But this Rock Beauty also had some red. Notice the red along the spine under its eye, sticking back from the side of its face below the plate that covers its gills. Also notice the small red spots on its tail.
We saw this Rock Beauty at a favorite site: Ol' Blue Reef near the island of Bonaire. Read all about this site on the ReefNews pages about Bonaire.
ReefNews President Jonathan Dowell took these pictures using a Canon 10D digital camera with a Canon 28-105 mm zoom lens in an Ikelite housing with an Ikelite strobe.
--------------------
e-ReefNews and embedded illustrations are
Copyright © 2005, ReefNews, Inc.
ReefNews ® is a registered trademark of ReefNews, Inc.
Back to e-ReefNews Vol.7 No.4
Back to the ReefNews home page