Volume 7 Number 5
Face to Face with Big Black Grouper
near Danger Cay in the Exumas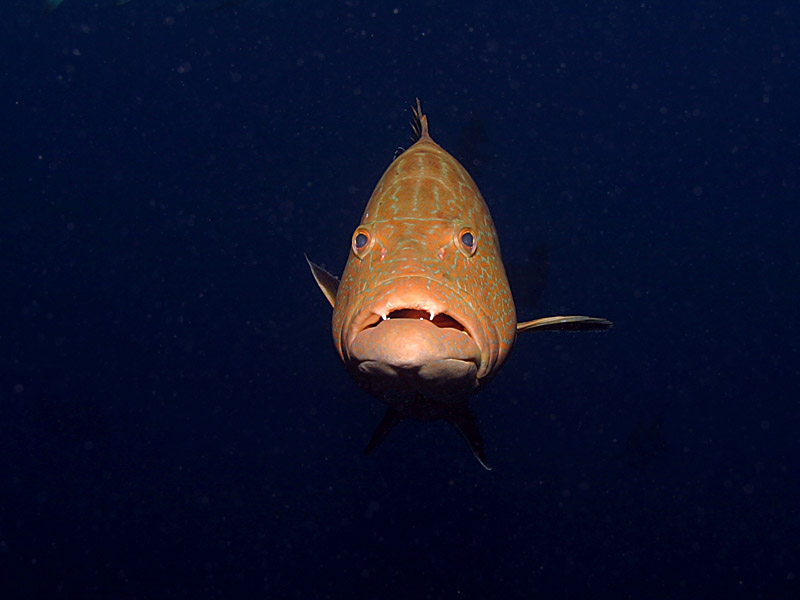 The Black Grouper has become rare on many reefs in the Caribbean because of too much fishing. But these beautiful fish are protected in The Bahamas' Exumas Land and Sea Park, giving us a great opportunity to swim face to face with this big fish.
Marine Sanctuaries such as the Exumas Land and Sea Park are critical for protecting the threatened and endangered Caribbean coral reefs. The Exumas Land and Sea Park is a Bahamas National Park, supported only by charitable contributions. If you ever visit the Exumas, be sure to visit the Exumas Land and Sea Park headquarters on Warderick Wells.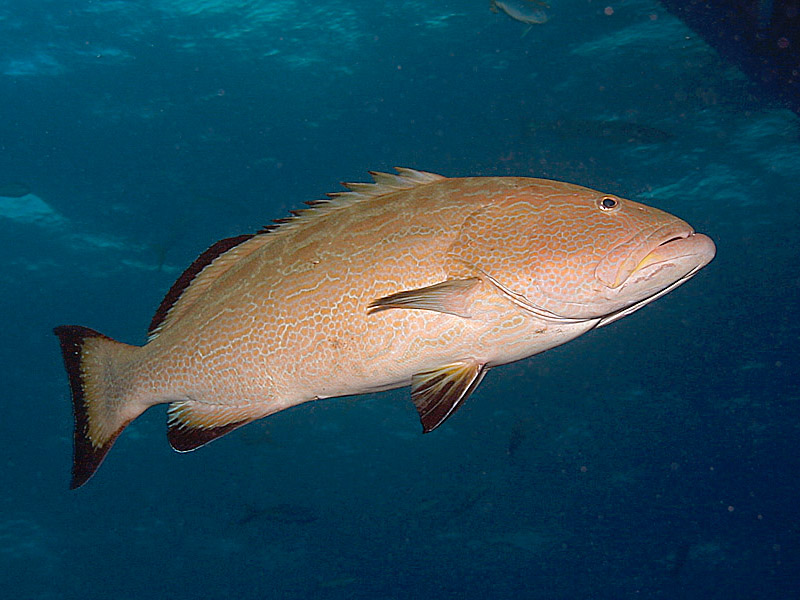 One feature that identifies the Black Grouper is the thick black bar on the edge of its tail fin. This Black Grouper was 30 inches long. We swam with this Black Grouper at a reef near Danger Cay in the Exumas islands of The Bahamas during a ReefNews expedition aboard the Cat Ppalu catamaran.
ReefNews President Jonathan Dowell took these pictures using a Canon 10D digital camera with a Sigma 18-50 mm zoom lens in an Ikelite housing with an Ikelite strobe.
--------------------
e-ReefNews and embedded illustrations are
Copyright © 2005, ReefNews, Inc.
ReefNews ® is a registered trademark of ReefNews, Inc.
Back to e-ReefNews Vol.7 No.5
Back to the ReefNews home page