ReefNews Geography:
Bimini, Ernest Hemingway, and Deep-Sea Fishing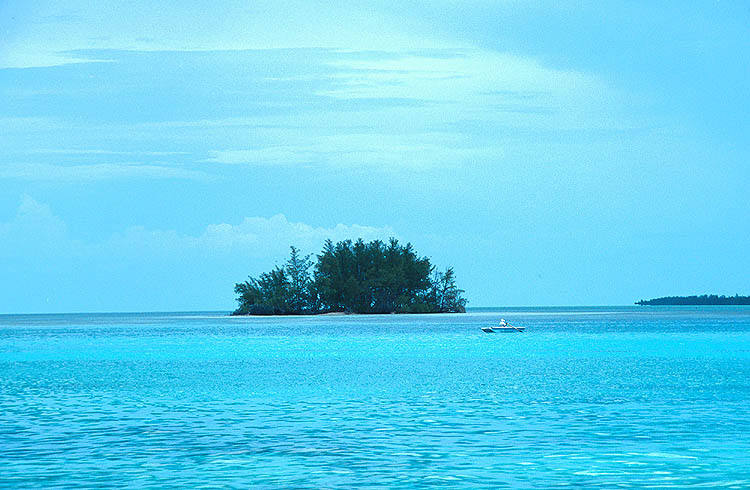 Bimini is a popular tourist destination for several important reasons. Bimini has an excellent shallow harbor, making it popular for sailors. Bimini has beautiful beaches and coral reefs. Bimini is only 50 miles from the large U.S. cities of Miami and Ft. Lauderdale. And Bimini is near the deep waters of the Gulf Stream, making it an excellent destination for sport fishing.
Ernest Hemingway is a famous author of many books about the ocean. Hemingway lived from 1899 to 1961, at a time when there were not too many people who traveled to wild frontier places such as Bimini. His stories of hunting and fishing were exciting, and made other people want to follow him to have similar adventures. Hemingway lived on Bimini and wrote about deep-sea fishing in the Gulf Stream. One of his books is called "The Old Man and the Sea," and is about a man who went to sea in a small boat to try to catch big fish. This photo of the little boat in the harbor of Bimini reminds me of this book. Scenes like this make me smile, and are one of the reasons I love to visit Bimini.
Now there are very many people who can afford to go to Hemingway's wild frontier. The docks in Bimini are sometimes crowded from all the boats that are visiting from Florida. But there has been so much fishing near Bimini that it is now difficult for fishermen to catch the big fish that were more common in the days of Ernest Hemingway. There may be many reasons for this, but certainly the number of sport fishermen who have come to Bimini and who have caught so many fish is one of the reasons. We must study about the ocean to know how to balance the fishing catch with the breeding habits and lifespans of the fish being caught. We must learn when to fish, and when not to fish, so that there will always be fish to see on the reefs and to catch from our fishing boats.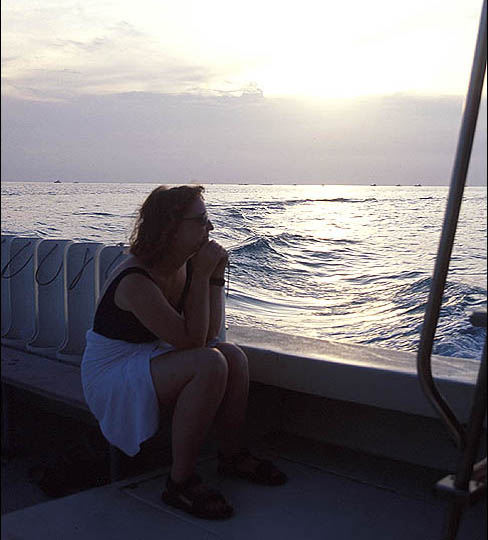 This photo shows the sunset as we returned to port after a day of diving and swimming with the dolphins at Bimini. Look closely, and you will see at least 10 boats out to sea in the deep water near Bimini. I asked the boat captain what these boats were doing, and what he told me was a shock. These were fishing boats lined up to catch Groupers. In the summertime near the time of the full moon, Groupers gather in enormous schools in deep water to spawn. That is, they get together in a group to lay eggs. The number of fish in these schools may be in the thousands. But because the fish are in a large school, they are easy to catch. If fishermen catch them before they lay their eggs, then there may be no eggs laid and no baby Groupers will be born. To protect the fish, it is against the law to catch them during the spawn. But this night was the night of the full moon, and already there were 28 fishing boats lined up to catch the Groupers illegally.
Groupers are common near many islands in the Caribbean, but I have never seen a big Grouper near Bimini. I believe that there aren't any, because fishermen like those in this picture have caught too many of them. There are two pictures of Groupers on the ReefNews website:
Tiger Grouper near Cayman Brac
Nassau Grouper near Grand Turk
Scenes like this make me sad, and make me want to teach more people about the oceans so we can learn to use and protect them wisely. Knowledge makes the difference.

Back to Bimini Ocean Geography
---
The essay on this website is by Dr. Jonathan Dowell, President of ReefNews, Inc.
This website, pictures, and graphics are
Copyright © 2002, ReefNews ®, Inc.
95 Obsidian Loop
Los Alamos, NM 87544

Questions, Comments? Write to ReefNews@reefnews.com!