Tiger Grouper at Grunt Valley Reef, Cayman Brac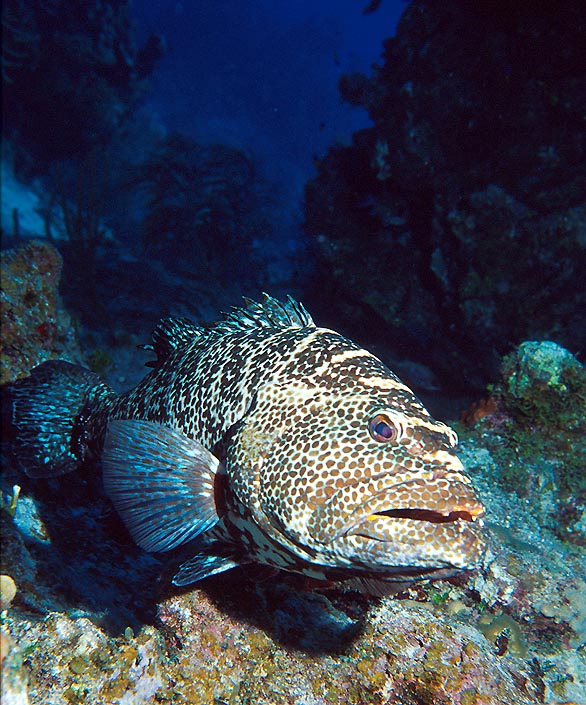 The Tiger Grouper is a large and beautiful lurk-and-lunge hunter. Like other lurk-and-lunge hunters, the Tiger Grouper catches its prey by finding a hiding place in the reef and then waiting patiently for an unsuspecting small fish to swim nearby. Then, with a quick lunge, it opens its jaws to swallow its meal in an easy gulp. Many species of Sea Bass are lurk-and-lunge hunters, including Graysbys, Red Hinds, and Nassau Groupers.
This Tiger Grouper waited patiently in a small gully between two coral heads. It may have been waiting to be cleaned by a shrimp or a goby; animals that provide cleaning services to groupers and other large reef fishes.
Back to ReefNews Photo Gallery Volume 5:
The Best of ReefNews 1999-2000
Dr. Jonathan Dowell took this picture using a Nikonos V with 35mm lens and SB105 strobe. This photo was taken during Dr. Dowell's participation in the Nikon School of Underwater Photography, Divi Tiara Resort, Cayman Brac, March 2000.
---
This webpage, picture, and graphics are
Copyright © 2001, ReefNews ®, Inc.
95 Obsidian Loop
Los Alamos, NM 87544
All Rights Reserved.