Volume 7 Number 6
Face to Face with a Caribbean Reef Shark
near Danger Cay in the Exumas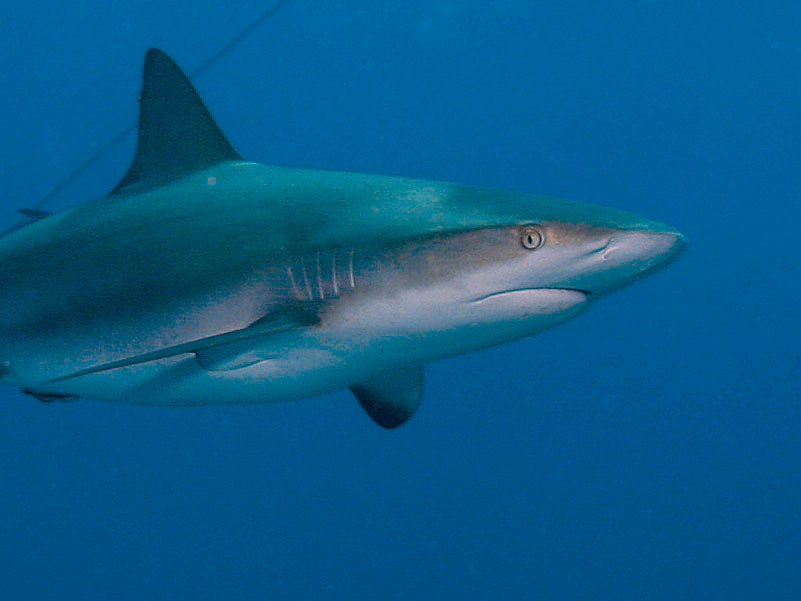 This closeup shows the detail of this Caribbean Reef Shark. This shark is built for speed. Its smooth body and swept back fins allow this shark to race through the water. The Caribbean Reef Shark has to be fast to catch the little fish that it eats. Notice the five small gill slits far behind its eyes. Its nostrils are just under the end of its snout. Like many other hunters, this shark has a good sense of smell to help it identify its food. Also notice its brownish-green eye with its small pupil, almost like a cat's eye.
ReefNews President Jonathan Dowell took these pictures using a Canon 10D digital camera with a Sigma 18-50 mm zoom lens in an Ikelite housing with an Ikelite strobe.
See more pictures of sharks!
Swimming with Three Big Sharks
Shark Emerges from Twilight Gloom
--------------------
e-ReefNews and embedded illustrations are
Copyright © 2005, ReefNews, Inc.
ReefNews ® is a registered trademark of ReefNews, Inc.
Back to e-ReefNews Vol.7 No.6
Back to the ReefNews home page