Volume 7 Number 6
Shark Emerges from the Twilight Gloom
near Danger Cay in the Exumas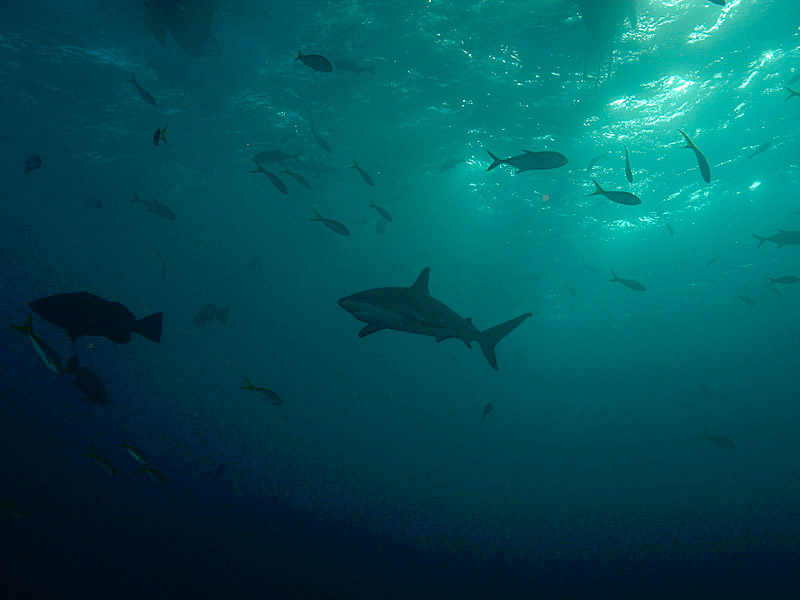 My 300th dive was late in the afternoon, and we were so excited to be in the water with sharks we stayed in the water a long time. Soon the sun began to go down, and it was getting dark in the water. Swimming under the boat, the Cat Ppalu, I turned to see this shark swimming toward me through a vast school of several different kinds of fishes. The lens was set to make the picture dark, and it gave a terrific suspenseful feeling to this picture. But the shark just swam past me, as it had already for 40 minutes during that dive.
The huge fish on the left is a Black Grouper, featured in e-ReefNews Vol.7, No.5. The small fish are Yellowtail Snappers. The medium-sized fish are Horse-eyed Jacks. Look carefully at the surface and you can see the sterns of the twin hulls of the Catamaran Cat Ppalu and their ladders into the water for the divers.
ReefNews President Jonathan Dowell took these pictures using a Canon 10D digital camera with a Sigma 18-50 mm zoom lens in an Ikelite housing with an Ikelite strobe.
See more pictures of sharks!
Swimming with Three Big Sharks
Face to Face with Caribbean Reef Shark
--------------------
e-ReefNews and embedded illustrations are
Copyright © 2005, ReefNews, Inc.
ReefNews ® is a registered trademark of ReefNews, Inc.
Back to e-ReefNews Vol.7 No.6
Back to the ReefNews home page