ReefNews Geography:
Washington's Scenic Beach State Park
.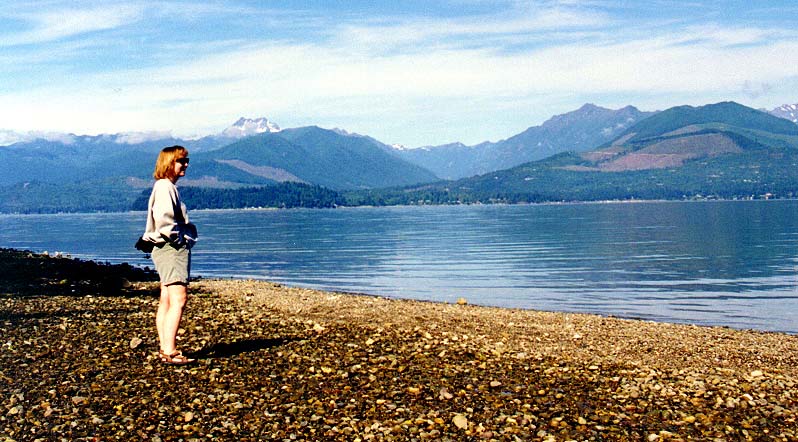 Scenic Beach State Park is a beautiful rocky beach on the Hood Canal. This park is a good place for picnics, wading in the cold waters of the Hood Canal, hunting for crabs in the rocks on the beach, and taking in the views of the Olympic Mountains across the water.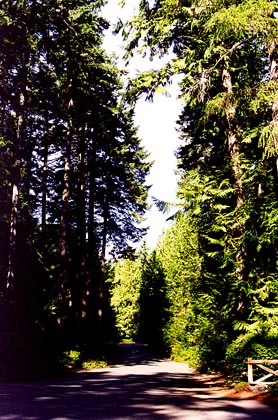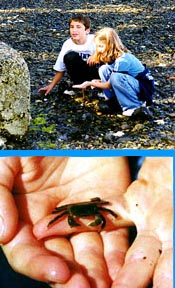 Scenic Beach State Park is a rock beach nestled among towering pine trees. Like most areas of the Washington coastline, Scenic Beach is covered by dense forests down to the rocky shore. Only the salt water of the Hood Canal keeps the vegetation away from the waterline. The water near the shore is shallow. The difference between high and low tide can be a few feet, moving the waterline back and forth quite a distance. The shallow water is usually calm. The flat water allowed us to see several species of small fishes as we waded in the icy water near the shore. Wading birds are often seen hunting for these fish at Scenic Beach.
We watched kids hunting for crabs among the rocks near the water's edge. Several types of Shore Crabs are found here. Shore Crabs live in the intertidal zone (the area of the beach between the high-tide and low-tide waterlines). We watched these crabs hiding between the rocks. Sometimes the crabs would crawl into the tiny puddles of water under and between the rocks, and sometimes they would climb onto the rocks where they were easy to see in the sunlight.
Tessa Dowell spent one summer morning at Scenic Beach State Park. Because the water of the Hood Canal is so cold and the sunlight warmed the land so quickly in the morning, there was a big fog bank over the water and the shore early in the morning. As the sun rose and the air warmed, the fog lifted and Tessa could see the Olympic Mountains across the canal. The Hood Canal is a natural body of water, a flooded valley carved by an ancient glacier. The Hood Canal is several hundred feet deep in some places.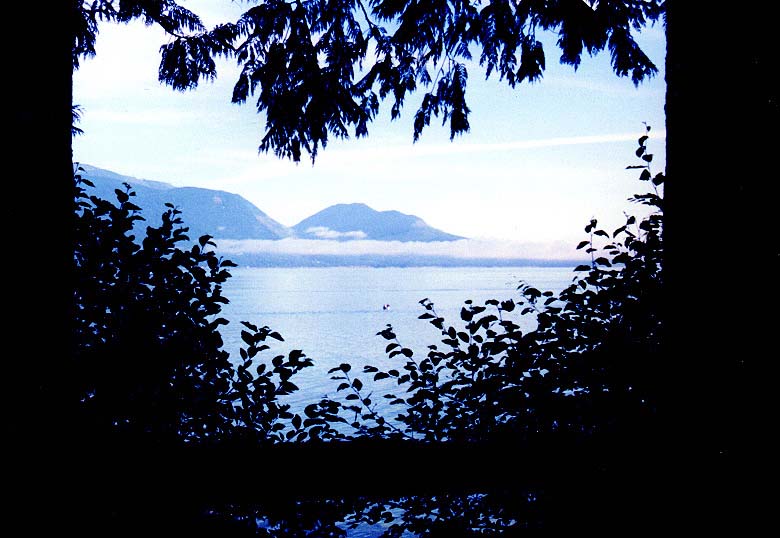 Back to Washington's Puget Sound
---
Copyright © 1999, ReefNews, Inc.
95 Obsidian Loop
Los Alamos, NM 87544
.
Questions, Comments? Write to ReefNews@reefnews.com!