French Angelfish at Front Porch Reef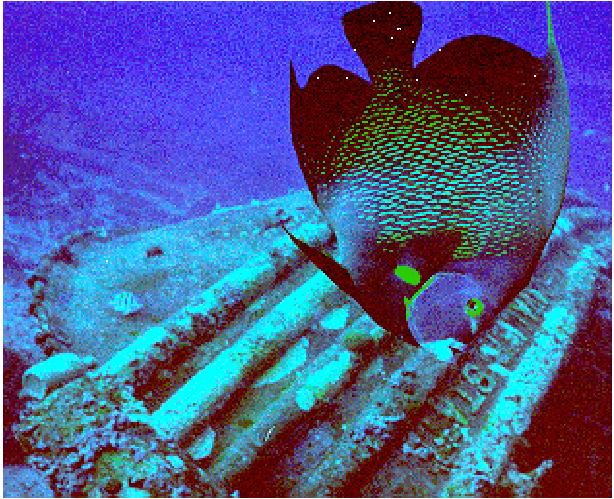 This French Angelfish is swimming into deeper water at a depth of 60 feet. This photograph was taken at the wreck of the Cavalier State at Front Porch Reef on the island of Bonaire in the Netherlands Antilles. This adult French Angelfish was approximately 16 inches long. Just before the photograph was taken, this fish ate a pelagic tunicate. Then I followed it as it swam into the wreck, where I watched it swimming upside down.
The French Angelfish can be identified by its colorful blue oval body covered with scales that have a yellow outline. The French Angelfish has large dorsal and anal fins, giving it an almost triangular profile. Also note the yellow spot near the eye and at the base of the pectoral fin.
Note the Sergeant Major, a 6-inch-long yellow-gray fish with vertical black stripes, that is swimming near the bow of the wreck. The wreck is encrusted with many sponges and corals, and is home to many fishes and invertebrates.
Back to ReefNews Photo Gallery
---
Copyright © 1997, ReefNews, Inc.
95 Obsidian Loop
Los Alamos, NM 87544