Pelagic Tunicate at Front Porch Reef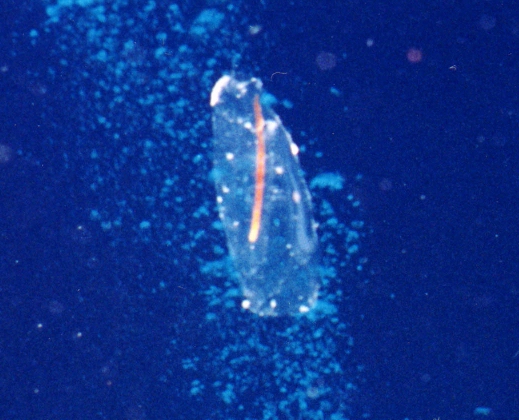 A Pelagic Tunicate looks like a jellyfish. However, it is an animal unrelated to jellyfish. Pelagic Tunicates are a type of tunicate that live in open water. Their name, pelagic, means open water. Other types of tunicates live attached to objects underwater, such as the calcium-based skeletons of hard corals. Tunicates have tubular bodies with an opening at each end. They can push water through their tubular bodies, propelling the Pelagic Tunicates through the water.
This Pelagic Tunicate was approximately 3 inches long. Notice the bright red stripe through its body. This is a strip of nerve tissue, similar to a spinal cord in vertebrates only without a backbone.
We saw this Pelagic Tunicate at Front Porch Reef on the island of Bonaire in the Netherlands Antilles. They were everywhere in the water, several feet apart. We swam between them as we explored the reef. I even saw a French Angelfish eat one of them.
Back to ReefNews Photo Gallery
---
Copyright © 1997, ReefNews®, Inc.
95 Obsidian Loop
Los Alamos, NM 87544