Southern California Shore Birds
.
The Southern California shore is an important habitat for many animals.
Many kinds of birds live and hunt near the shore. Here are two examples.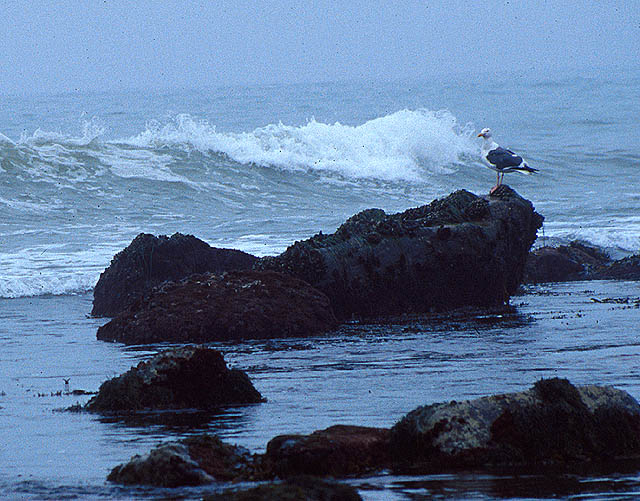 Sea Gulls are common birds that are often seen near the shore. We saw this Sea Gull perched on a rock at low tide near Point Loma in San Diego. This bird was about 1 foot long. Notice its strong bill, which helps it make a meal of almost anything it can find.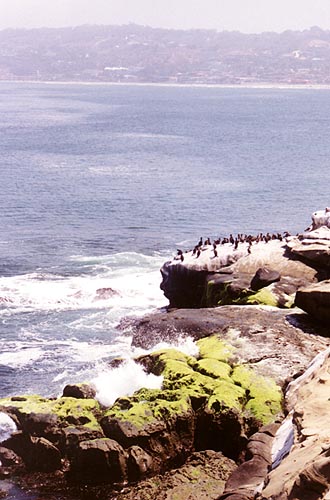 Another common shore hunter is the Cormorant. We saw this flock of Cormorants on a rock near La Jolla Cove, although we couldn't get close enough to take a detailed photo. From all the bird droppings, you can tell this rock is a common perch. Cormorants are fish-catchers. They can dive into the water to catch fish.
Also notice all the green seaweed growing in the "splash zone" of the inter-tidal region. At high tide, these plants may be underwater.
Back to ReefNews Photo Gallery Volume 6:
San Diego Tidal Creatures
---
This webpage, picture, and graphics are
Copyright © 2001, ReefNews ®, Inc.
95 Obsidian Loop
Los Alamos, NM 87544
All Rights Reserved.