Southern California Shore Crabs
.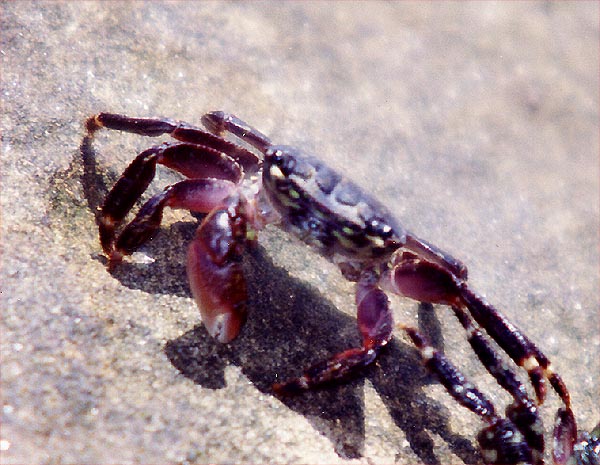 Shore Crabs are common animals that live in the inter-tidal region of the California coast. We saw these Shore Crabs on a rock above the tide pools near La Jolla Cove. We also saw many Shore Crabs in and out of the water at Cabrillo National Monument, on Point Loma in San Diego. The inter-tidal region is the part of the shore that is between the tides. That is, at high tide the inter-tidal region is underwater, but at low tide the inter-tidal region is out of the water.
Shore Crabs are tiny. This Shore Crab was about the size of a quarter, maybe 1 inch from toe to toe. Shore Crabs use their tiny claws to pick up food and to fight with their neighbors. Shore Crabs are very fast. They can scamper across the rocks and even climb upside down by holding on to the rough surface of the rocks with their claws. Like other crabs, these Shore Crabs have 10 legs. Their front two legs have claws with pincers, and their other legs are used for walking and climbing. Notice the crab's two dark eyes widely spaced on top of its body. Also notice this crab using its legs to push away another crab at the bottom right of the picture.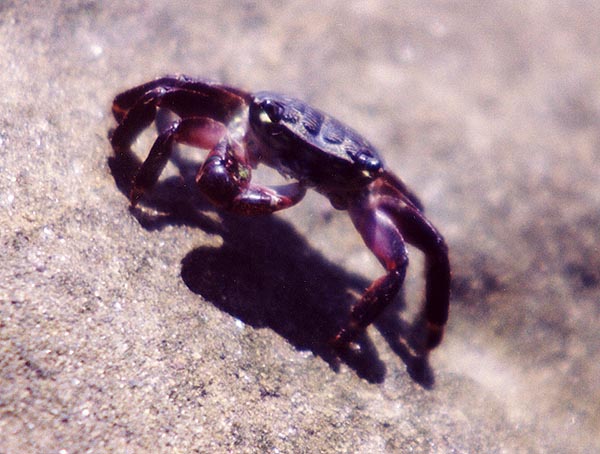 Notice this Shore Crab open its mouth as it uses its claw to pick up a piece of food.
Back to ReefNews Photo Gallery Volume 6:
San Diego Tidal Creatures
---
This webpage, picture, and graphics are
Copyright © 2001, ReefNews ®, Inc.
95 Obsidian Loop
Los Alamos, NM 87544
All Rights Reserved.