Volume 6 Number 8
Yellowfin Grouper and Green Moray Eel Prowl the Reef
Near Cayman Brac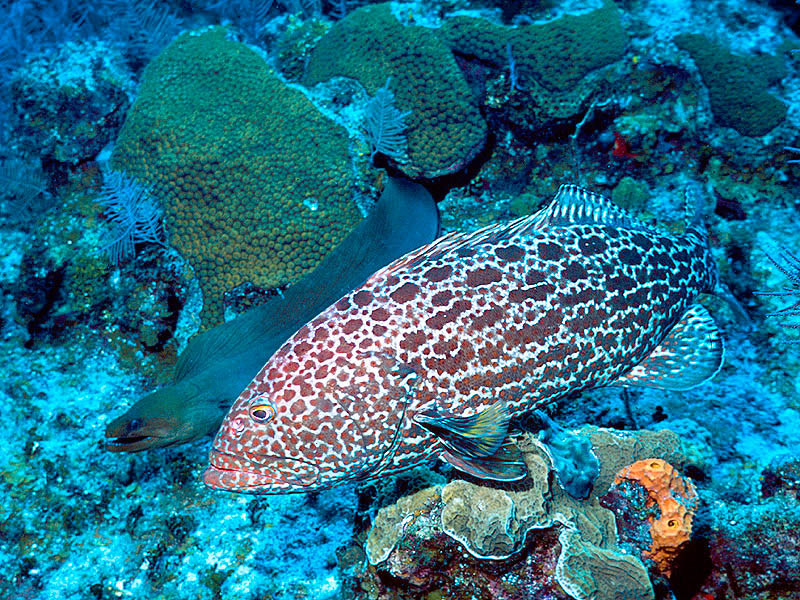 Let me be absolutely clear about this. Cayman Brac is home to some of the healthiest reefs in North America, and the main reason for this is because these reefs are protected by a system of underwater marine sanctuaries. Without these "National Parks" to protect these reefs, the reefs soon would be destroyed by overfishing, pollution, and other unnatural and manmade hazards.
ReefNews encourages all students of all ages to support and visit marine sanctuaries like those in the Cayman Islands. Supporting these parks will help assure healthy reefs for the next generations of underwater explorers. Knowledge makes the difference.
On these healthy reefs we saw all kinds of unusual animal. One day, we saw this big Yellowfin Grouper following a big Green Moray Eel as the Eel swam through tunnels in the coral reef as it hunted. We believe the Grouper was hoping the Eel would scare out some small fish that the Grouper could then catch.
This two-foot-long Yellowfin Grouper was covered with a spectacular pattern of big red spots. These spots hide the location of the Grouper's eyes. Some scientists think this camouflage makes it hard for small fishes to study this hunter and know where its eyes are, where it might be looking, and how big its mouth might be. Notice the little bit of yellow on this Yellowfin Grouper's pectoral fins (the fins on its sides). This little fin outline in yellow is what gives this Yellowfin Grouper its name.
In the background you can see the 5-foot-long Green Moray Eel as it emerges from a tunnel through the reef. Moray Eels are fish. They have big dorsal fins that run most of the lengths of their bodies, from just behind their heads to the tips of their tails.
The spotted corals behind the Moray Eel are Giant Star Corals. Below the Grouper are some yellow Lettuce Corals and an Orange Sponge.
Learn more about other species of Groupers from these ReefNews webpages:
Face to Face with a Nassau Grouper
A Nassau Grouper Looks Tessa Dowell Right in the Eye
Tiger Grouper Lurks in the Reef
Graysbys are Small Grouper near Bonaire

ReefNews President Jonathan Dowell took this picture using a Canon A2 camera with a 28-105 mm zoom lens in an Ikelite housing with an Ikelite strobe.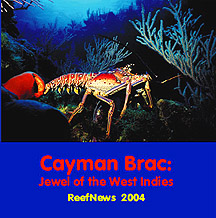 You can see many other pictures of fishes including other species of Groupers and other pictures and digital video of Green Moray Eels on the ReefNews CD-ROM,
Cayman Brac: Jewel of the West Indies.

--------------------
e-ReefNews and embedded illustrations are
Copyright © 2004-2005, ReefNews, Inc.
ReefNews ® is a registered trademark of ReefNews, Inc.
Back to e-ReefNews Vol.6 No.8
Back to the ReefNews home page