Volume 7 Number 4
Spots Before Your Eyes: The Whitespotted Filefish
at Ol' Blue Reef near Bonaire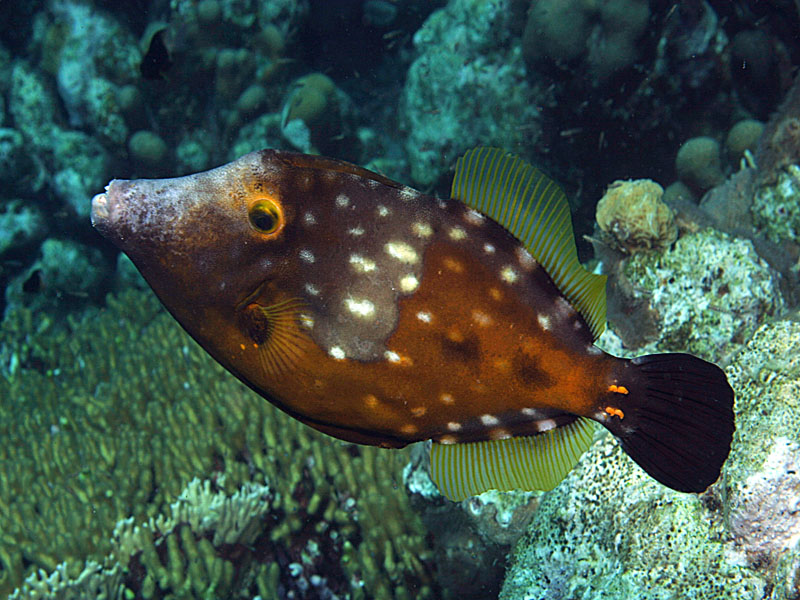 The Whitespotted Filefish is a big fish. It can be almost 2 feet long, and the fish in this picture was about that size. The Whitespotted Filefish is diamond shaped, with a narrow mouth and a narrow caudal peduncle (the place where its tail is attached) but tall in the middle to make a diamond. Its colors are yellow and orange. The back of its body also has white spots, but the Whitespotted Filefish can dim these spots until they disappear. It is actually sort of unusual to see this fish swimming around with its spots showing, as these fish seem to dim their spots during the day when I'm likely to see them.
Compare this Whitespotted Filefish to the Scrawled Filefish we learned about in the last issue of e-ReefNews. See the Scrawled Filefish in e-ReefNews Vol.7 No.3. Note the Whitespotted Filefish has a long, frilly dorsal fin like the Scrawled Filefish. Like the Scrawled Filefish, the Whitespotted Filefish swims by wiggling this fin from side to side.
We saw this Whitespotted Filefish at a favorite site: Ol' Blue Reef near the island of Bonaire. Read all about this site on the ReefNews pages about Bonaire.
ReefNews President Jonathan Dowell took these pictures using a Canon 10D digital camera with a Canon 28-105 mm zoom lens in an Ikelite housing with an Ikelite strobe.
--------------------
e-ReefNews and embedded illustrations are
Copyright © 2005, ReefNews, Inc.
ReefNews ® is a registered trademark of ReefNews, Inc.
Back to e-ReefNews Vol.7 No.4
Back to the ReefNews home page