Meet Melanie Philippi
ReefNews Underwater Naturalist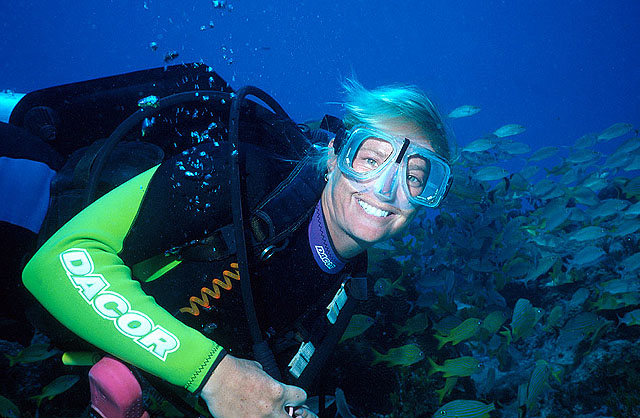 Melanie Philippi is a boat captain, divemaster, scuba instructor, and marine biologist on the island of Bimini in The Bahamas. Melanie studied marine biology in the United States before starting her career with Bimini Undersea Adventures. Bimini Undersea has been a ReefNews sponsor since 1997.
Melanie is an enthusiastic instructor, and her knowledge of the reefs has been an inspiration to ReefNews. Melanie has taught us about the wonders of the reef at night, the spectacular beauty of Bimini's coral reefs, and how we all are responsible for protecting our oceans' resources and using those resources responsibly. Melanie is the biologist who identified the Dusky Shark ReefNews photographed above North Wall reef near Bimini in the summer of 2001.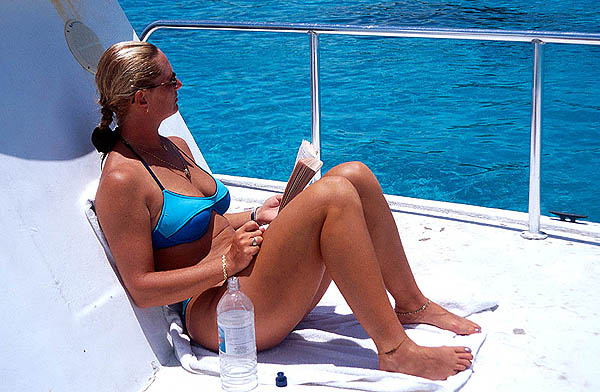 These pictures show Melanie enjoying the sun on the deck of the Bimini Undersea boat, playing with a dog on the pier, and driving the boat on the way to visit one of Bimini's incredible reefs.
Melanie Philippi also was a dive instructor for Jonathan Dowell and Tessa Dowell, directors of ReefNews, Inc.
Back to Meet the ReefNews Staff
---
Copyright © 2002, ReefNews, Inc.
95 Obsidian Loop
Los Alamos, NM 87544
Questions, Comments? Write to ReefNews@reefnews.com!