Volume 6 Number 9
Golden Trumpetfish at Andrea Reef
near Bonaire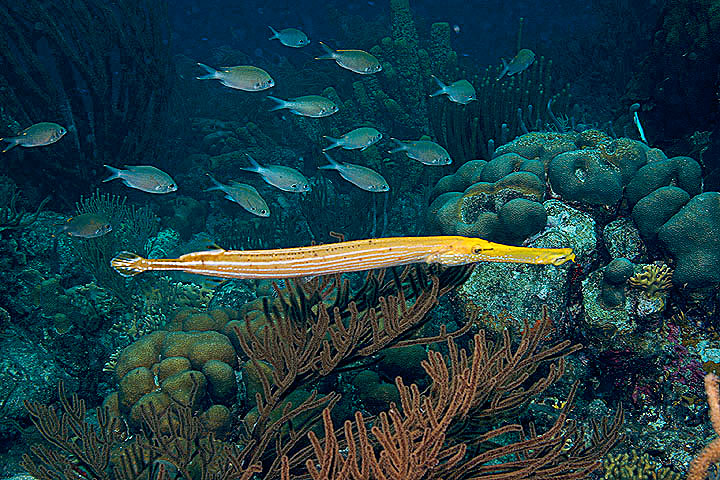 We've seen Trumpetfish before, but it is unusual to find them in this terrific gold color. Trumpetfish are long and skinny fish. They can be up to 3 feet long, but this Trumpetfish was about 16 inches long. The small school of little fish in the background are Brown Chromises
Trumpetfish can change color. Trumpetfish have cells of different colors in their skin. By making the cells of one color get bigger or smaller, they can add or subtract this color from their appearance. In this process, Trumpetfish can change from brown to royal blue or bright yellow. The color-changing cells are called chromatophores (say, "crow-MAT-oh-fours").
Several different kinds of fishes can change colors like this. Fish use this color changing for camouflage, imitating the color of the background to disguise their location and intentions. Other color changers include Peacock Flounders and Groupers.
See some other Trumpetfish pictures on the ReefNews website:
Spectacular Trumpetfish near Grand Turk
Ultra-Closeup of Trumpetfish near Belize
ReefNews President Jonathan Dowell took this picture using a Canon 10D digital camera with a Canon 28-105 mm zoom lens in an Ikelite housing with an Ikelite strobe.
--------------------
e-ReefNews and embedded illustrations are
Copyright © 2004-2005, ReefNews, Inc.
ReefNews ® is a registered trademark of ReefNews, Inc.
Back to e-ReefNews Vol.6 No.9
Back to the ReefNews home page