ReefNews:
Index of Fish Photos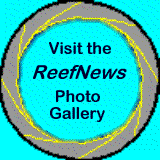 Fishes live everywhere in the oceans. From the coldest Arctic waters to the warmest Caribbean reefs, fishes swim, hide, hunt, breed, scavange, and sleep in the oceans. ReefNews has a great collection of beautiful photographs of these incredible animals.
Which is right: fish or fishes? Both are plural.
Use fish for more than one animal of the same type
(I swam with a school of 200 fish in Bimini).
Use fishes for more than one animal of different types
(the reef in Bonaire is crowded with fishes).
Back to the ReefNews Ocean Vista
---
Copyright © 1997-2000 ReefNews ®, Inc.
95 Obsidian Loop
Los Alamos, NM 87544
Questions, Comments? Write to ReefNews: reefnews@reefnews.com!